Tropical Terrarium Workshop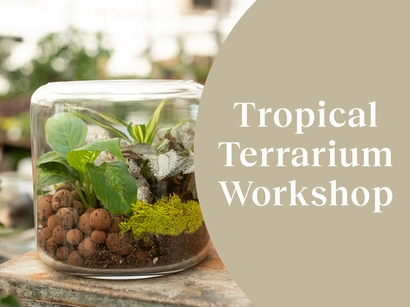 Create a Tropical Terrarium in this hands-on workshop using a selection of foliage houseplants and various natural accents.
Join us for this hands-on workshop where we will go over the basics of terrarium planting and care as you create your very own terrarium to enjoy at home. Choose 3 foliage indoor tropical plants and decorate your terrarium with driftwood, moss, bark and clay pebbles in a beautiful glass vessel.
Starting at $49.99 per participant.
*plant selections and materials may vary based on availability.
Date & time varies by location. Space is limited, preregistration is required via Eventbrite.
(SOLD OUT!) Burnaby-Mandeville: Sun Feb 26 @ 11AM
(SOLD OUT!) Oak Bay: Sat Feb 25 @ 1PM
Eventbrite's fee is nonrefundable. Materials and supplies are subject to change and substitution. Additional cost for materials can be purchased the day of the workshop.
Locations: Burnaby-Lougheed, Burnaby-Mandeville, Coquitlam, Colwood, Oak Bay, Saanich, Nanaimo, Courtenay, Penticton