Hanging Basket Workshop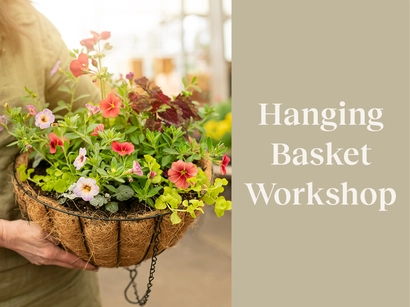 Join us for this hands on workshop and create your own custom hanging basket filled with beautiful summer blooming favourites.
Our experts will guide you through the basics of hanging basket design, help you choose your plants and colour scheme.
When you are ready to plant, we will help you place your chosen plants in the perfect spots to maximize their effectiveness for a full basket popping with beautiful colour and trailing accents.
Starting at $69.99 + tax* per participant.
Plant selections and materials may vary based on availability.
Date & time varies by location. Space is limited, preregistration is required via Eventbrite.
*Eventbrite lists cost + tax as purchase price. Eventbrite's fee is nonrefundable. Materials and supplies are subject to change and substitution. Additional cost for materials can be purchased the day of the workshop.
Dates: and
Locations: Burnaby-Lougheed, Burnaby-Mandeville, North Shore, Coquitlam, Colwood, Oak Bay, Saanich, Nanaimo, Courtenay, Penticton