Drought Tolerant Planter Workshop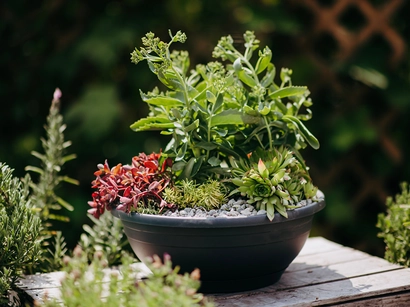 Join us for this hands on workshop and create a gorgeous bowl filled with various drought tolerant plants. A perfect summer activity!
Participants will fill a versatile Emma planter with beautiful drought tolerant plants, bringing an abundance of colour and texture to any space.
The best part? These planters are low-maintenance and are ready to bask under the hot summer sun without worry.
Whether you're a seasoned gardener or a budding enthusiast, our knowledgeable experts will be by your side, sharing valuable tips and techniques to ensure your planter flourishes all season long.
*Selection of plants and other material may vary from image.
Starting at $79.99 + tax* per participant.
Date & time varies by location. Space is limited, preregistration is required via Eventbrite.
*Eventbrite lists cost + tax as purchase price. Eventbrite's fee is nonrefundable. Materials and supplies are subject to change and substitution. Additional cost for materials can be purchased the day of the workshop.
Dates: and
Locations: Burnaby-Lougheed, Burnaby-Mandeville, North Shore, Coquitlam, Colwood, Oak Bay, Saanich, Nanaimo, Courtenay, Penticton