Tropical Terrarium Workshop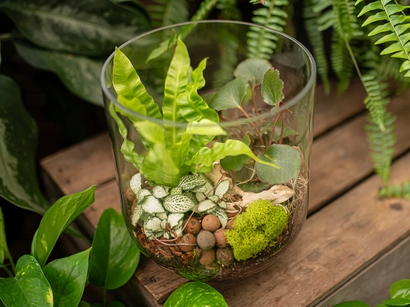 Join us for this hands-on workshop where we will go over the basics of terrarium planting and care as you create your very own terrarium to bring some green to your indoor space.
Choose 3 foliage indoor tropical plants and decorate your terrarium with driftwood, moss, bark and cay pebbles in a beautiful glass vessel.
Whether you're a seasoned tropical expert or a terrarium newbie, our knowledgeable experts will be by your side, sharing valuable tips and techniques to ensure your terrarium thrives all season long!
Selection of plants and materials may vary based on availability.
Starting at $49.99 + tax* per participant.
Date & time varies by location. Space is limited, preregistration is required via Eventbrite.
*Eventbrite lists cost + tax as purchase price. Eventbrite's fee is nonrefundable. Materials and supplies are subject to change and substitution. Additional cost for materials can be purchased the day of the workshop.
Dates: and
Locations: Burnaby-Lougheed, Burnaby-Mandeville, North Shore, Coquitlam, Colwood, Oak Bay, Saanich, Nanaimo, Courtenay, Penticton