Build a Living Gift: Terrarium Workshop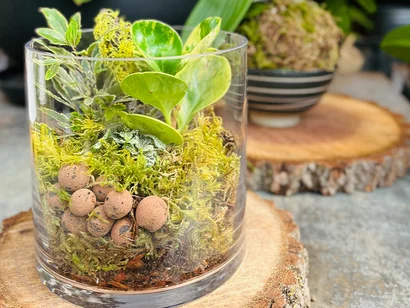 Wed, Dec 13 @ 6PM
Create the perfect gift for thr plant lover this holiday season with a beautiful terrarium! In this hands-on workshop, we will go over the basics of terrarium planting and care as you create the perfect living gift!
Choose a selection of tropical foliage and natural accents to create this stunning terrarium in a glass vessel that allows admiration from each angle.
This workshop is suttible for all ages, and a great way to give a gift in a sustainable long lasting way over the holiday season.
Starting at 39.99 per participant*.
Selection of available foliage plants and other material may vary from image depending on availability.
Please pre-register via Eventbrite.
*Eventbrite lists cost + tax as purchase price. Eventbrite's fee is nonrefundable. Materials and supplies are subject to change and substitution. Additional cost for materials can be purchased the day of the workshop.
Date:
Location: Burnaby-Mandeville