Festive Outdoor Planter Workshop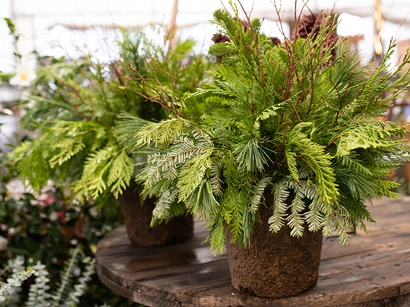 Thu, Nov 16 @ 6PM
Join us at our Holiday Open house, and create a beautiful Festive Outdoor Planter! The perfect festive touch to your porch for the holidays
Use a variety of fresh evergreen boughs and branches and your choice of decorative accents to create your own custom outdoor festive planter in this hands-on workshop
Cost Includes:
Soil
Insert pot
3 bundles of fresh greenery (1 bundle of cedar, 1 bundle of pine, and 1 bundle fir)
Half a bundle of huckleberry branches
*Additional materials such as pinecones, huckleberry, branches, festive accents, can be purchased as you're building your planter, day of the workshop!
Starting at $60.00 per participant*.
Please pre-register via Eventbrite.
*Eventbrite lists cost + tax as purchase price. Eventbrite's fee is nonrefundable. Materials and supplies are subject to change and substitution. Additional cost for materials can be purchased the day of the workshop.
Date:
Location: Courtenay