(SOLD OUT!) Festive Centerpiece Workshop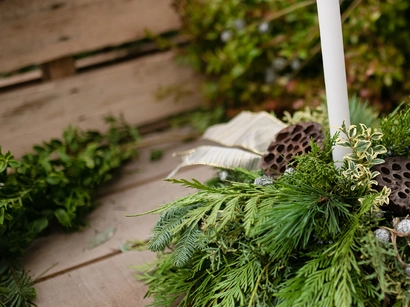 Sat, Dec 9 @ 11AM
Join us for this Holiday Workshop and create a stunning centerpiece for your table!
Using soaked floral foam, you'll build up your centerpiece with fresh cut greens, and decorate with an optional selection of seasonal flowers, berries, pinecone and candles.
With your finished centerpiece being built on a tray, you'll be able to continue soaking your floral foam to ensure a lively addition to your table all season long!
*Please note finished product may differe from image, as the selection of materials may vary based on availability. A selection of add-ons are able to be purchased during the workshop.
Starting at 49.99 per participant*.
Selection of materials may vary based on availability.
SOLD OUT! Please pre-register via Eventbrite.
*Eventbrite lists cost + tax as purchase price. Eventbrite's fee is nonrefundable. Materials and supplies are subject to change and substitution. Additional cost for materials can be purchased the day of the workshop.
Date:
Location: Coquitlam