Festive Door Swag with Bow Workshop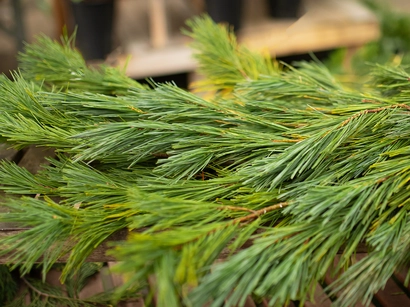 Sat, Nov 25 @ 11AM
Welcome your guests this holiday season with a festive handmade door hanging full of your favorite winter greens.
Draped elegantly on your door, this one-of-a-kind door swag is a great alternative for a wreath, offering the same festive fragranve and impact! Not to mention you'll walk away with a key holiday skill of making large bows of ribbon with our in-house tutorial!
Swags will be made from a comboination of winter greens, such as cedar and pine, and topped with a large bow.
Starting at 34.99 per participant*.
Selection of materials may vary based on availability.
Please pre-register via Eventbrite.
*Eventbrite lists cost + tax as purchase price. Eventbrite's fee is nonrefundable. Materials and supplies are subject to change and substitution. Additional cost for materials can be purchased the day of the workshop.
Date:
Location: Saanich