Ikebana-style Arrangement Workshop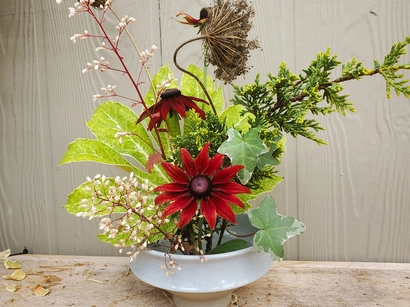 Sun, Dec 10 @ 11AM
Create a simple, yet striking Ikebana-style arrangement.
A mixture of stunning blooms, festive greens, foliage and delicate dried botanicals, this arrangement is the perfect centerpiece for your space! Ikebana is the Japanese art of flower arranging that emphasizes form and balance.
Great as a gift or for your holiday table centerpiece, you'll walk away with a new skill, and a "pin frog" and vessel to be able to replicate this beautiful creation time and time again!
Starting at 79.99 per participant*.
Selection of materials may vary based on availability.
Please pre-register via Eventbrite.
*Eventbrite lists cost + tax as purchase price. Eventbrite's fee is nonrefundable. Materials and supplies are subject to change and substitution. Additional cost for materials can be purchased the day of the workshop.
Date:
Location: Saanich