Festive Planter Workshop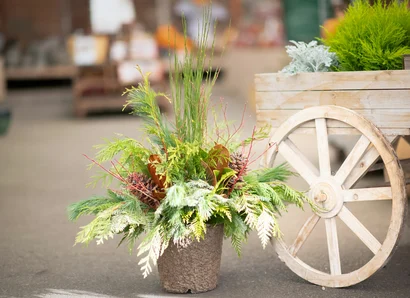 Create a Holiday Festive Planter! Utilizing festive boughs, branches, and pinecones, this planter is the perfect addition to your entrance!
Welcome your guests with a unique festive planter this season! Create your personalized outdoor festive planter using a variety of fresh local boughs, branches and pinecones, plus your choice of decorative accents in this hands-on workshop! With additions like sparkly berry, birch poles, fresh greenery, festive accents and more, you'll find the perfect accents to match your style!
This workshop will be held in our bedding area, which is covered, but has open walls. Please dress appropriately for the weather, as it can be a bit cooler or warmer in that area depending on the day.
Browse our photos to get inspired with what you could create!
Workshop includes:
Soil and insert pot
3 bundles of fresh greenery
Half a bundle of branches (Oregonia, magnolia and dogwood)
3 x pinecones
Selection of plants and materials may vary based on availability.
Starting at $79.99 + tax* per participant.
Date & time varies by location. Space is limited, preregistration is required via Eventbrite.
*Eventbrite lists cost + tax as purchase price. Eventbrite's fee is nonrefundable. Materials and supplies are subject to change and substitution. Additional cost for materials can be purchased the day of the workshop.
Dates: and
Locations: Burnaby-Lougheed, Burnaby-Mandeville, North Shore, Coquitlam, Colwood, Oak Bay, Saanich, Nanaimo, Courtenay, Penticton