Winter Festive Planter Workshop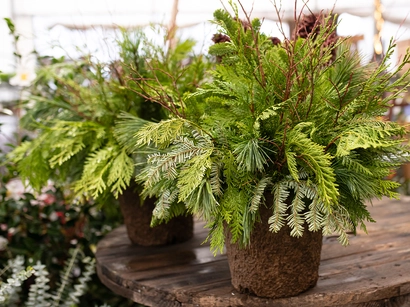 Sat, Nov 18 @ 11AM
Join us for this hands-on workshop and craft a Winter Festive Planter.
A great way to get in the holiday spirit and create your own Winter Festive planter for your front porch or patio.
*Cost covers basic greens. Add-ons and embellishments may be purchased on the day of the workshop for additional fees. Final project cost will vary.
Starting at 49.99 per participant*.
Selection of materials may vary based on availability.
Please pre-register via Eventbrite.
*Eventbrite lists cost + tax as purchase price. Eventbrite's fee is nonrefundable. Materials and supplies are subject to change and substitution. Additional cost for materials can be purchased the day of the workshop.
Date:
Location: Saanich