Botanical Nights: Winter Wonderland Planter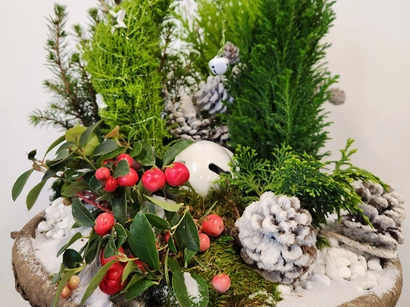 Thu, Nov 23 from 6:30 PM - 9:00 PM
Step into a winter wonderland on the North Shore for a magical after-hours workshop, where you'll create an enchanting adornment!
Join us for a magical after-hours workshop on the North Shore, filled with beautiful conifers, natural plantings and woodlot elements to adorn your front porch, entryway, or staircase.
Under the creative guidance of our designers Sophie and Alicen, we'll be crafting an enchanting "Winter Wonderland" outdoor planter (12") with a snowy backdrop, some magical forest friends, and carefully chosen unique materials.
There will be light food and beverages served.
Enjoy 15% OFF anything purchased during the evening of the event.
Starting at 99.99 per participant*.
Selection of materials may vary based on availability.
Space is limited! Please pre-register via Eventbrite.
*Eventbrite lists cost + tax as purchase price. Eventbrite's fee is nonrefundable. Materials and supplies are subject to change and substitution. Additional cost for materials can be purchased the day of the workshop.
Date:
Location: North Shore