Amaryllis Planter Workshop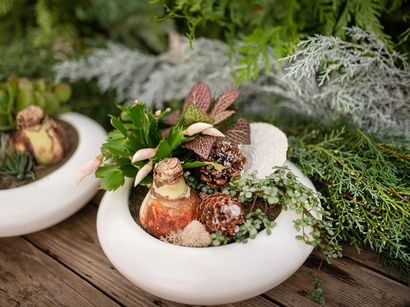 Join us for this Holiday Workshop and dress up your Amaryllis Bulb with stunning succulents, striking tropicals and festive accents!
During this hands on holiday workshop, you'll create a stunning planter to delight you throughout the holiday hosting season! With a choice of tropical foliage and flowering beauties, striking succulents, and seasonal accents, you'll create the perfect arrangement for your space! Not only will this beauty be the center of attention on your table now, but with a little time, the amaryllis bulb will flower, creating stunning trumpet- like flowers with delicate fragrance – just in time for the holidays!
Selection of plants and materials may vary based on availability.
Starting at $69.99 + tax* per participant.
Date & time varies by location. Space is limited, preregistration is required via Eventbrite.
*Eventbrite lists cost + tax as purchase price. Eventbrite's fee is nonrefundable. Materials and supplies are subject to change and substitution. Additional cost for materials can be purchased the day of the workshop.
Locations: Burnaby-Lougheed, Burnaby-Mandeville, North Shore, Coquitlam, Colwood, Oak Bay, Saanich, Nanaimo, Courtenay, Penticton