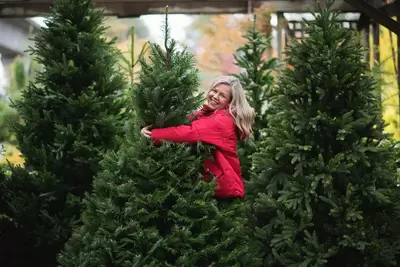 Written by Ingrid Hoff
That glorious time of year has arrived, time to festoon our indoor spaces with all that is green, colourful and fragrant, and the crowning glory of it all is the Christmas tree. For many people I know everlasting trees are the way to go, a better choice for their life and situation, but for me fresh is best. However, before you reach for your twinkle lights and dig out your favourite ornament there are a few tricks and tips you should be aware of before you hang that first bobble.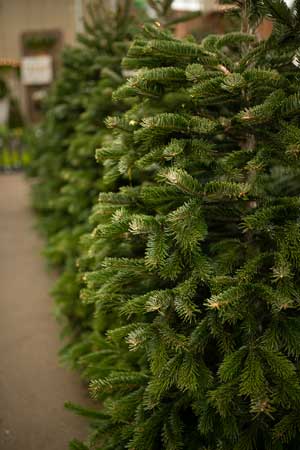 First off you need to find the right tree for you, and quality matters. How your tree has been grown and transported is going to affect how long it lasts within your home. The longer it has to travel to get to you the more likely it will dry out or be exposed to extreme temperatures. Buying local matters, luckily GARDENWORKS trees are local and there are lots in store. I love the tradition of sipping a warm drink and wandering through the trees, breathing in the amazing aroma, looking for just the right one. From the softness of a natural Douglas fir tree, the iconic Christmas tree silhouette of a cultured Douglas fir, the glossy green needles of a grand fir, the strong branches of Nordmann fir, the naturally narrow and amazingly fragrant Fraser fir, the soft fragrant branches of balsam fir, and my favourite the stately noble fir with its blue-green needles, there is a fresh Christmas tree for everyone.
So once you find your perfect tree and get it home there are a few things you need to do to take care of it and set yourself up for success. If you make sure to treat your tree right you will get the best out of it for longer.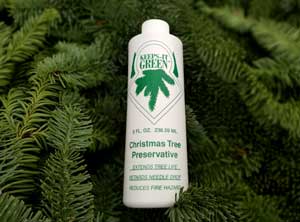 The most important thing to do is get your tree hydrated. Make a fresh cut to the main trunk and then get it into water as soon as possible. The tree has a great water saving strategy that when a branch (or in this case the main stem) is cut, it seals off the cut with sap (similar to how we form scabs when we bleed). This prevents further water loss but it also means that if you place your tree in water without cutting off the sap clogged end, the water can't get in either. You need to help your tree take a good drink, it's probably been a while and it's most likely a little dehydrated. You can ask to have a fresh cut in store or if your handy with a pruning saw do it yourself.

Add some tree preservative such as Keeps It Green to the water to extend the life of your tree.

Check the water and top it up daily if necessary. Your tree will be very thirsty at first, so be prepared to keep that reservoir filled.

Think carefully about where to place your tree, near a heating vent is the worst possible spot. One tip, make sure it's near an electrical outlet, you don't want to have to run an extension cord across your living room carpet.

Rotate the tree around to make sure you are displaying it to its full potential.
Once your tree is in place then you can start to fill it with lights and decorate, but that is not the only "trimming" you can do for your tree. I'm amazed by the number of people who think that once the tree is up, well… you get what you get, and you don't get upset. Nope, the word trimming actually does double duty here, it means to trim as in "trim some branches" it's time to start the real trimming and by that, I mean pruning. Have a good look at your tree, you may need to cut a bit off the top to make the tree topper fit, or perhaps remove a broken branch, or just clip back a branch that is sticking out more than you like. It's your tree so you can trim it back to suit your needs. I have even removed branches to create open spaces to hang long ornaments. Just make sure to follow the old adage of "think twice, cut once." It's really hard to put a branch back on the tree. A good tip is to take any branches you remove and use them to decorate a mantle, table centre, or stick them into your winter accent planter.
So, enjoy the season and deck the halls. Find your perfect tree then treat it right and the season is guaranteed to be jolly.