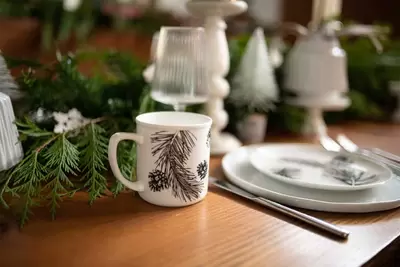 Written by Ingrid Hoff
My holiday decorating just went up a notch, I've discovered tablecaping. If you aren't already familiar with the term, this is the art of table setting. But it's so much more than just creating a nice-looking table, it's setting a "scape" not a landscape but a tablescape. What could be better for a house-bound gardener than creating a new and seasonal scape, I'm giddy at the idea. And personally, the table is at the heart of the holidays for me because it goes hand in hand with what is my true holiday obsession/motivation, food.
But then I had a look on social media, searching the term tablescaping, and well… freaked out at the idea of re-creating the perfection I found there. After a few calming breaths and some great advice from a GARDENWORKS design expert I realized that it's actually easier than you think to create a show stopping table for the holidays. So, of course, now I'm going to share with you what I've learned.
The first advice I have is to get creative and make it your own. For design purposes you should try to choose a colour or theme and stick to it, but honestly as long as you love what you make then go crazy and have fun. Personally, I need a theme and colour scheme, it makes everything tie together and have a polished look. Think about a rustic woodland theme in brown, green and gold, or snowflakes in silver and blue, or white and red traditional look complete with Santa gnomes, or even a colourful retro 50s vibe. You are literally only limited by your own imagination.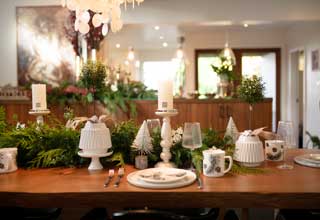 My next suggestion, think in terms of layers. When you build your tablescape you obviously need the necessities like cutlery, glasses and plates but you actually start before that with a tablecloth, plate chargers and/or a runner. That's your foundation, then start to layer on everything else. After your foundation you lay the plates/cutlery, some greenery, branches, and/or flowers, then perhaps some lights and/or candles, and lastly don't forget to add some "bling" (think pinecones, ornaments, and anything that will catch your eye and give you some wow factor). Here are some tips to consider as you build your scape and layer:
Consider using an evergreen garland (either fresh or faux-fabulous) to run down the length of the table. It makes a perfect statement and base to start building from.

Use candles and string-lighting generously and think about layering them as well. Have different candles holders in varying sizes and heights. Think pillar candles, taper candles and even some votives in lovely holders. Then don't forget battery operated micro lights which can easily be woven in and around greenery or even tucked into a container.

Don't ignore your chairs, use ribbon/natural twine/jute/burlap to hang a pinecone or snowflake on the backside of each chair.

Add bling, a place card and a guest-gift all in one by placing a little ornament at each place setting for your guest to take home. I'm visualizing a ceramic snowflake, pinecone ornament, or a cute felted mushroom ornament (okay that last one was a bit specific but I recently saw some that I can't get out of my mind).

Add some flowers with wow, consider tucking in a waxed amaryllis or two, or even a paperwhite planting.
Don't forget about a napkin holder. Tie a piece of jute with a sprig of fresh rosemary, or an evergreen sprig, at each table setting.

Not everything has to be complicated and fancy, sometimes a simple touch is best.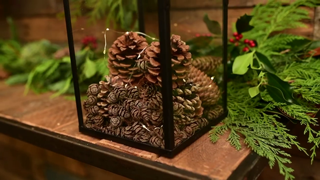 My last tip is to don't forget to use what you already have. Both your yard and home can be a great source of materials to tablescape with.
Bringing nature and the outdoors in to adorn your table with fresh evergreen boughs, branches and pinecones.
Raid the Christmas tree and borrow a few ornaments

Consider what you have in the kitchen, cranberries, oranges and citrus can all be festive and decorative.
So, have some fun this season with setting your table. And please don't just consider it for one day, create a scape on your table and then keep it for as long as it lasts. You can create something in anticipation of the big meal (and enjoy it in the days leading up) or unveil it on the big day and then keep the party going in the days after. Friday night pizza never tasted so good served on a place setting with a rustic wooden plate charger. This season, let's celebrate the everyday as well as those big special days. It may seem like a little thing, decorating your table, but isn't that what often brings us the most joy, the little things?