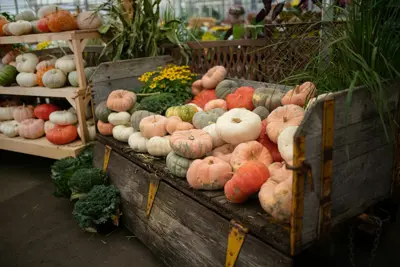 Written by Ingrid Hoff
There is a chill in the air and the season of pumpkins is upon us. Okay, it might not actually be a season just to celebrate all that is squashes and gourds, but to me the fall is a time to allow myself to go completely bonkers over the mighty pumpkin. I mean, how many seasonal decorations are there that you can eat, that are tasty and even superfood? And just to be clear, I love all the pumpkin flavoured things, lattes, cookies, cereal, milkshakes, pancakes, and even ahem… pumpkin flavoured beer. But while we are enjoying the warming spices that usually accompany this wondrous fruit (yep…it's technically a fruit not a veggie) don't forget to grab some actual pumpkins to enjoy. They have a big impact for very little effort and will instantly give your spaces that warm, cozy, fall feeling that we should all be embracing this time of year.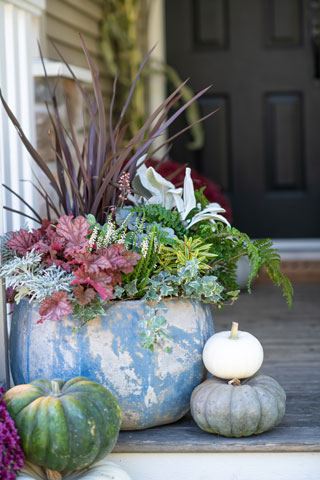 Now if you are thinking "I'm not really an orange kind of person, so pumpkins aren't for me" then please allow me to dispel the myth that all pumpkins are orange. Pumpkins and gourds (more on them later) come in such an array of colours that they will suit any colour preference. Consider orbs of grey, blue, blush-pink, peach, sage-green, creamy white, but also every shade of orange and yellow, and even some that are flirting with red. The texture can vary as well, some have shiny skin, matte skin, smooth, bumpy and warty like a Halloween witch's nose, striped, multicoloured… pumpkins are a wealth of beauty and variety.
So, ever wondered what the difference is between a squash, pumpkin and a gourd? Well, wonder no more. All of them belong to the Cucurbitaceae family, but pumpkin is really just a name we give to certain winter squash. Winter squash generally has soft flesh under a hard skin (think butternut, acorn, etc), which are different from summer squash which are all soft and fleshy (zucchini, patty pan, etc). Gourds on the other hand are hard skinned and hard fleshed. Pumpkins are edible, gourds are generally not. Well, now you know.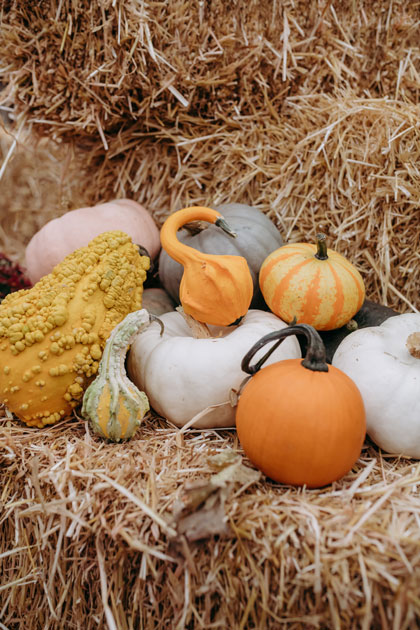 One of the great things about winter squash and gourds is they are not as perishable as their fleshy cousins the summer squash and this makes them ideal for decor. They can be kept for up to six months in a cool dry place, like your front porch/doorstep/balcony/patio. If you can keep them dry and the squirrels don't nibble them, you can have months of decorative beauty (and then eat them). If you choose to use them for the inside then they will definitely not last that long. So, you might get one month instead of six, but for a fresh décor piece, that is amazing.
Remember that old adage, "less is more"? Well forget it when considering pumpkins, more is always more! If possible, fill your front porch/patio/balcony with as many as you can, one is great but 10 is amazing. Create a vignette by mixing in a few garden mums and other seasonal stars.
If you really want to take it up a notch, consider hollowing out a pumpkin filling it with soil and treat it like a planter. Take it to a spooky level for Halloween with skeletons and cobwebs, embrace the harvest season with a straw bale and some corn stalks. Or amp up the garden by tucking in a few in high traffic areas, it will be a pop of colour and an unexpected surprise. For indoor décor smaller pumpkins are a bit more versatile.
Cluster some on the mantle or a bookcase, or create a cornucopia tablescape with them mounded down the length of your Thanksgiving table. Even just a simple bowl of bumpy/stripy gourds on a side table can bring a bit of the season and celebration into your space.
Time can move fast and before we know it another fall season will be behind us and we'll be looking for the candy canes. Make the most of it this year, embrace the season of the pumpkin.
Fun Pumpkin Facts
The word pumpkin comes from Greek "pepon" which means large melon.

The jack-o'-lantern originates from Ireland and were originally made from hollowed out turnips and potatoes.

While they are believed to have originated in Central America pumpkins are now grown on every continent in the world (except Antarctica)

The name pumpkin first showed up in the fairy tale Cinderella in the 17th century

They are actually a fruit, not a vegetable

Considered a super fruit, one cup of cooked pumpkin has 200% of the recommended daily intake of vitamin A, 20% of vitamin C, and more potassium than a banana.

Roasted and lightly salted seeds are not only tasty but also pack a nutritious punch and a great source of fibre.

The heaviest pumpkin on record weighed over 2,600 lbs

Pumpkins were once used as a remedy for freckles and snakebites (this is 100% not recommended)