Fern & Petal Bath Soaks
Short description
Fern & Petal Bath Soaks
10 locally owned and operated stores in British Columbia to shop at. View our locations here

Growing gardens in BC since 1990
Fern & Petal Bath Soaks
Short description
Fern & Petal Bath Soaks
10 locally owned and operated stores in British Columbia to shop at. View our locations here

Growing gardens in BC since 1990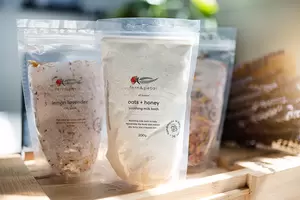 Lemon Lavender Tea Soak: Melt away your stress with this refreshing blend of lemon and lavender. This blend is made with Epsom salts to loosen muscles and draw out toxins, while pink Himalayan salts help relieve stress. Lavender and calendula flowers add extra benefits to help soothe and relax you!
Wildflower Tea Soak: Brew yourself a bath and infuse your tub with the natural healing benefits of minerals and flowers. Its therapeutic benefits will help soothe tired muscles, detoxify and de-stress. A soothing blend of lavender, sandalwood and bergamot essential oils.
Oats + Honey Milk Bath: A soothing milk bath that helps rejuvenate the body and reduce dry, itchy and irritated skin. This product contains only natural ingredients and is perfect for all ages, including young children.
*Available at the following locations, subject to availability:
Burnaby-Lougheed, Burnaby-Mandeville, North Shore, Coquitlam, Oak Bay, Saanich, Nanaimo & Penticton