BeeKind Honey
Short description
Beekind Honey
10 locally owned and operated stores in British Columbia to shop at. View our locations here

Growing gardens in BC since 1990
BeeKind Honey
Short description
Beekind Honey
10 locally owned and operated stores in British Columbia to shop at. View our locations here

Growing gardens in BC since 1990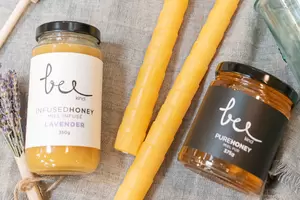 Beekind Honey Infusions was founded in the summer of 2019 and is run by Kirsten Brolin, daughter Kennedy Brolin, and son Connor Brolin. All of our products are crafted with love and hard work.
Honey is a delicious and beneficial natural sweetener that can be added to enhance a wide variety of foods and dishes. It's mild flavour profile can also easily take on the delightful and welcome flavour of most herbs, spices, flowers, and fruit peels through the process of infusion. Infused honey makes a great gift for the friends and families in your life.
Beekind Lavender Infused Honey is by far our most popular. Our Lavender honey is made using local lavender flower. This honey works well with tea, and can be used as a substitute for lavender essential oil in baking or other crafts.