GARDENWORKS All Purpose Plant Food 6-8-6
Short description
GARDENWORKS All Purpose Plant Food 6-8-6
10 locally owned and operated stores in British Columbia to shop at. View our locations here

Growing gardens in BC since 1990
GARDENWORKS All Purpose Plant Food 6-8-6
Short description
GARDENWORKS All Purpose Plant Food 6-8-6
10 locally owned and operated stores in British Columbia to shop at. View our locations here

Growing gardens in BC since 1990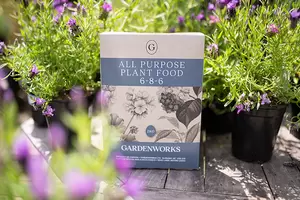 GARDENWORKS All Purpose Plant Food 6-8-6
Excellent, organic base nutrition for all western Canadian gardening with a specially balanced formula for year-round growing.
Gardenworks All Purpose Plant Food Features:
Excellent, well-balanced fertilizer, rich in natural organic nutrients for year-round growing.
Organic matter is very important in providing a conducive environment and the necessary
nutrients for the natural microbial activity in the soil.
The organic content breaks down slowly over time reducing the potential to burn plant roots, while producing long-term nutrient feeding. Organic matter also enhances the water & nutrient holding capacity of the soil.
This unique formulation results in long-term feeding which produces optimum results for
abundant and beautiful flowers, vegetables and fruit, as well as green, healthy lawns & shrubs.
WHEN TO USE:
LAWNS:
Apply when lawn is dry.
Spread fertilizer evenly using a drop (gravity) or broadcast spreader, at a rate of 2kg per 20 m2. Water in thoroughly.
For a lush, green lawn all year round, apply in spring, mid-summer & early fall. Use as part of a complete lawn feeding program.
PLANTS:
All Purpose Plant Food is ideal for all sizes and types of plants including flowers, vegetables & shrubs.
BEFORE PLANTING:
Prepare soil well. Add manure, compost or peat moss to increase organic content.
Apply 6-8-6 at a rate of 2kg per 13m2 using a drop (gravity) spreader or by hand.
Work well into top 10-15cm of soil & water in thoroughly.