GARDENWORKS Fruit Tree & Berry Food 4-20-20
Short description
GARDENWORKS Fruit Tree & Berry Food 4-20-20
10 locally owned and operated stores in British Columbia to shop at. View our locations here

Growing gardens in BC since 1990
GARDENWORKS Fruit Tree & Berry Food 4-20-20
Short description
GARDENWORKS Fruit Tree & Berry Food 4-20-20
10 locally owned and operated stores in British Columbia to shop at. View our locations here

Growing gardens in BC since 1990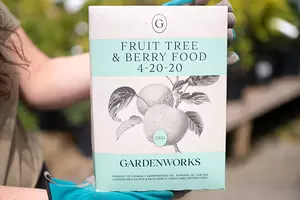 GARDENWORKS Fruit Tree & Berry Food 4-20-20
For Strong, flourishing trees and juicy rich-flavoured berries with the best nutrients for western Canadian fruit growing.
GARDENWORKS fruit tree & berry food FEATURES:
An excellent plant food formulated especially for fruit-bearing trees and berry plants.
High in phosphorous which is necessary to set the fruit and buds as well as to promote
a healthy root system.
High in potash which hastens the maturing process of the seeds and fruits, and improves their quality.
Rich in many other vital nutrients (see side panel) to promote delicious, plump, full, juicy fruit & berries.
WHEN TO USE:
Apply Fruit Tree & Berry Food in the early spring after pruning trees or berry plants (or cutting back dead plant foliage), before new growth sets in.
Fertilize again in late June or early July to give added nourishment to the fruit.
HOW TO USE:
TREES:
Plant new fruit trees in the fall or very early in the spring before the trees break dormancy.
Before planting, incorporate Fruit Tree & Berry Food into the soil, along with Bone Meal and organic matter, such as Peat Moss.
For established fruit trees, measure the area under the plant – from the trunk to the outmost leaves (the dripline). Multiply the length (dripline to dripline) by the width (dripline to dripline) to get the area in m2. This is the root zone of the plant where fertilizer is required.
Apply fertilizer at the rate of 1kg per 10m2. Work thoroughly into the soil being careful not to damage roots. Water well.
BERRIES:
For new plants, turn soil over and incorporate Bone Meal and organic matter, such as Peat Moss, and apply Fruit Tree & Berry Food – at the rate of 1kg per 10m2.
Berry plants and bushes should be planted according to individual planting instructions for each type of fruit.
Once plants are established, fertilize in narrow bands along the entire length (both sides) of each row of berry plants, 10cm away from the base of the plants.
Use 1kg of Berry Food per 40 linear meters.
TIPS:
For best results, fruit trees and berry plants like a sunny location. Avoid low lying frost pockets which will destroy early flowers.
Wait until fruit is fully ripened before picking, and once picked, keep berries and fruit out of full sun to maintain good eating and storage quality.
Pruning should be done just before the berry plants and fruit trees break dormancy in early spring. Ask for specific pruning instructions at your nearest Gardenworks store.