GARDENWORKS Indoor Potting Soil
Short description
Gardenworks Indoor Potting Soil with slow-release fertilizer
• A complete, professionally formulated growing medium for most house plants
• Promotes healthy root systems and abundant flowers and foliage
• Contains slow release fertilizer 14-14-14
10 locally owned and operated stores in British Columbia to shop at. View our locations here

Growing gardens in BC since 1990
GARDENWORKS Indoor Potting Soil
Short description
Gardenworks Indoor Potting Soil with slow-release fertilizer
• A complete, professionally formulated growing medium for most house plants
• Promotes healthy root systems and abundant flowers and foliage
• Contains slow release fertilizer 14-14-14
10 locally owned and operated stores in British Columbia to shop at. View our locations here

Growing gardens in BC since 1990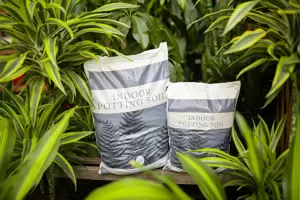 GARDENWORKS Indoor Potting Soil
Gardenworks Indoor Potting Soil is a complete growing medium with the additional of a time controlled fertilizer for optimum growth of most potted houseplants. Our Indoor Potting Soil promotes A healthy root system and abundant flowers and foliage. This soil can be used straight from the bag with no additional amendments, providing excellent drainage and aeration for healthy growth.
NOTE: Controlled release nutrients have been added to feed plants for up to 4 months
Come in and speak to one of our experts to find the right product for your needs.