Original SEA SOIL™
Short description
Original SEA SOIL™
• An organic blend of composted fish, tree bark, fir needles, and forest fines
• Contains all necessary micro and macro nutrients for growing a healthy garden
• Loosens heavy soils and adds organic material to sandy and clay soils
• OMRI listed
10 locally owned and operated stores in British Columbia to shop at. View our locations here

Growing gardens in BC since 1990
Original SEA SOIL™
Short description
Original SEA SOIL™
• An organic blend of composted fish, tree bark, fir needles, and forest fines
• Contains all necessary micro and macro nutrients for growing a healthy garden
• Loosens heavy soils and adds organic material to sandy and clay soils
• OMRI listed
10 locally owned and operated stores in British Columbia to shop at. View our locations here

Growing gardens in BC since 1990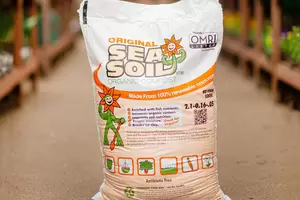 Created from a mixture of fish and forest fines. This top-quality product is rich in colour and in nutrients while maintaining a neutral pH. SEA SOIL™ contains all necessary micro and macro nutrients to grow a healthy garden, is weed-free, and is an excellent way to retain moisture. SEA SOIL™ is listed by the Organic Materials Review Institute (OMRI). With no fish odour, this two year composted soil is a complete soil for your garden.
Organically fertilized with fish
Retains moisture
Breaks up clay and increases organic content
Promotes strong root development
SEA SOIL™ is a complete soil that will change the way you garden. The rich black soil is full of micro-macro nutrients and trace elements to enrich your soil quality. Time between watering will increase. Fertilizers and other supplements can be eliminated. When using SEA SOIL™ with other supplements, follow the directions of all products being used.