Safer's Insecticidal Soap
Short description
Safer's Insecticidal Soap
10 locally owned and operated stores in British Columbia to shop at. View our locations here

Growing gardens in BC since 1990
Safer's Insecticidal Soap
Short description
Safer's Insecticidal Soap
10 locally owned and operated stores in British Columbia to shop at. View our locations here

Growing gardens in BC since 1990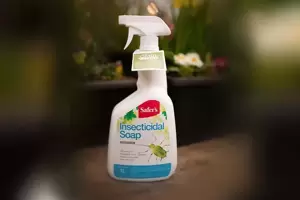 Safer's Insecticidal Soap
Safer's Insecticidal Soap utilizes the power of potassium salts of fatty acids (insecticidal soap). The potassium salts weaken the insect's waxy protective outer shell. Apply every 7-10 days when insects are present or as needed to prevent further damage. It controls soft bodied insects such as aphids, spider mites, whiteflies and other listed insects.
Active Ingredient: Potassium Salts of Fatty Acids 50.5%
Weakens insects protective outer shell so they dehydrate and die
For use on vegetables, fruits, shrubs, trees, and greenhouse plantings
Controls aphids, mealybugs, spider mites, whitefly, soft brown scale, psyllids, rose or pear slugs, earwigs, and elm leafminer
Convenient 1L ready-to-use bottle
Come in and speak to one of our experts to find the right product for your needs.