The Somerset Toiletry Co. Bubble Bath and Bubble Blower
Short description
The Somerset Toiletry Co. Bubble Bath and Bubble Blower
10 locally owned and operated stores in British Columbia to shop at. View our locations here

Growing gardens in BC since 1990
The Somerset Toiletry Co. Bubble Bath and Bubble Blower
Short description
The Somerset Toiletry Co. Bubble Bath and Bubble Blower
10 locally owned and operated stores in British Columbia to shop at. View our locations here

Growing gardens in BC since 1990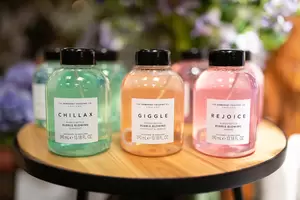 The Somerset Toiletry Co. Bubble Bath and Bubble Blower
Bubble Bath & Bubble Blower – Rejoice 390ml
More bubbles = less troubles! Our Jasmine scented bath soak is sure to provide some in-bath entertainment!
Chill out in a bath filled with bubbles from The Somerset Toiletries Co.
This fun bottle of bath bubbles comes in a clear bottle with aqua liquid inside and features a modern and stylish white label.
This bottle of bath and bubble blower makes a wonderful gift for a friend or relative, perfect for Christmas or a birthday.
Brand

the Somerset Toiletry Co.