Wildly Delicious BBQ sauces
Short description
Wildly Delicious BBQ sauces
10 locally owned and operated stores in British Columbia to shop at. View our locations here

Growing gardens in BC since 1990
Wildly Delicious BBQ sauces
Short description
Wildly Delicious BBQ sauces
10 locally owned and operated stores in British Columbia to shop at. View our locations here

Growing gardens in BC since 1990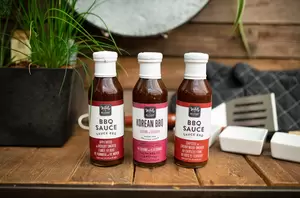 Wildly Delicious BBQ sauces
Wildly Delicious KOREAN BBQ SHORT RIB GRILLING SAUCE
Wonderfully sticky, deliciously sweet and sour, this sauce makes the humble short rib a memorable eating experience. Simply marinate beef short ribs, cut about 0.5 cm (0.25 in) thick, in sauce for 30 minutes to an hour prior to grilling. Grill on high to desired doneness and baste liberally with fresh sauce prior to serving.
Unit Size: 350 mL, 11.8 US fl oz
INGREDIENTS: Pears (pears, water, sugar), sugar, soy sauce (water, wheat, soybeans, salt, alcohol, vinegar, lactic acid), rice vinegar, onion, water, scallion, sesame oil, garlic, apple juice concentrate, rice starch, sesame seed, soy lecithin, canola oil, lemon juice concentrate, ginger, sea salt, xanthan gum, spices.
• low in fat - free of trans fatty acids - low in saturated fat - free of cholesterol
• Refrigerate after opening. Shake well before serving
• Contains: Soy, Sesame, Wheat. May contain tree nuts, mustard, sulphites, milk, eggs, fish.
• Made in Canada from domestic and imported ingredients
APPLEWOOD & HICKORY SMOKED BBQ SAUCE
Big, smokey flavour and impossibly addictive. Our number one selling product needs to reside in your pantry because if smokey BBQ is your thing this sauce will be the only one you will ever use. Please use responsibly.
Unit Size: 350 mL, 11.8 US fl oz
INGREDIENTS: Tomato paste, molasses, vinegar, water, sugar, sea salt, natural applewood smoke flavour, natural hickory smoke flavour, mustard flour, minced onion, minced garlic, spices.
• Free of fat - Free of cholesterol
• Refrigerate after opening. Shake well before serving
• Contains: Mustard. May contain soy, sesame, sulphites, wheat, tree nuts, eggs, milk, fish.
• Made in Canada from domestic and imported ingredients