Wildly Delicious Dips
Short description
Wildly Delicious Dips
Roasted Red Pepper & Feta Dip
Oven Roasted Tomato & Basil Bruschetta
10 locally owned and operated stores in British Columbia to shop at. View our locations here

Growing gardens in BC since 1990
Wildly Delicious Dips
Short description
Wildly Delicious Dips
Roasted Red Pepper & Feta Dip
Oven Roasted Tomato & Basil Bruschetta
10 locally owned and operated stores in British Columbia to shop at. View our locations here

Growing gardens in BC since 1990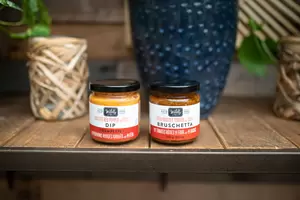 Roasted Red Pepper & Feta DipSimply open and serve. Unlike our competition, we don't use commercial mayonnaise as the primary dairy component but rather, real cream for a decidedly superior taste.
Ideally served chilled.
Unit Size: 230 g, 8.1 oz
INGREDIENTS: Cream (cream, milk, skim milk powder, dextrose, carrageenan, mono and diglycerides, cellulose gum, polysorbate 80, sodium citrate), roasted red peppers, diced tomatoes (tomatoes, tomato juice, salt, calcium chloride, citric acid), onions, feta cheese, white wine vinegar, canola oil, tomato paste, sea salt, sugar, natural Feta cheese flavour, basil, pectin, carrageenan, carob gum, citric acid, potassium sorbate.
• Refrigerate after opening. Stir well before serving
• Contains: Milk, Sulphites. May contain tree nuts, sesame, eggs, wheat, soy, fish, mustard.
• Made in Canada from domestic and imported ingredients
Oven Roasted Tomato & Basil Bruschetta
Garlic and basil enhance the natural sweetness of oven roasted tomatoes in this classic Italian condiment. serve with olive oil toasted baguette rounds and crostinis topped with a variety of cheeses. also makes a refreshing side dish or salad.
Unit Size: 240 g, 8.5 oz
INGREDIENTS: Diced tomatoes (tomatoes, tomato juice, salt, citric acid, calcium chloride), onions, oven roasted tomatoes (sundried tomatoes, oil, lemon juice, sugar, onion, spices), canola oil, water, red wine vinegar, basil, parsley, garlic, sugar, concentrated lemon juice, sea salt, spice, citric acid.
• Free of saturated fat - Free of trans fatty acids - Free of cholesterol
• Refrigerate after opening. Stir well before serving
• Contains: Sulphites. May contain mustard, sesame, wheat, tree nuts, soy, milk, eggs, fish.
• Made in Canada from domestic and imported ingredients