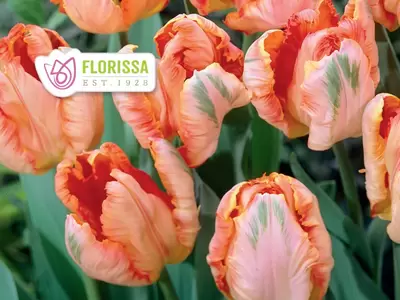 Written by Ingrid Hoff
Everybody loves something new, but in my opinion, gardeners tend to take it to a whole new level. We go nuts for something new. Perhaps it's because so many of the plant breeders oblige us by continually putting out stunning new and exciting flowers in a variety of shapes, colours, sizes and textures. Spring bulbs are no different, heading into my local GARDENWORKS right now is a bit like letting a kid loose in a candy store. Don't get me wrong, I still have a soft spot for the tried-and-true favourites that just keep performing and delighting me each spring, but sometimes you just want something new.
Here are a few of the "gems" that have caught my eye recently.
Tulips:
'Apricot Parrot,' (pictured right) I'm a sucker for a parrot tulip, the ruffled texture of their flowers, paired with the streaking and staining of complimentary yet contrasting colours. Seriously, what is not to like? The large, bold flowers are so romantic looking. And this new one with apricot-pink petals flushed with green and yellow is especially eye-catching. This is a tulip to turn heads and as a matter of fact it's already winning awards such as the Royal Horticultural Societies (RHS) Award of Garden Merit. It blooms in the late spring and is very easy to grow.
'Amber Glow,' is the perfect name for this triumph type tulip since the colour reminds me of the glow of a campfire just when it's at that perfect s'more making stage. With a vibrant yellow base that has an ombré effect of moving into a deep dark garnet-red colour. A mid-season bloomer with strong, sturdy stems, it's sure to light up any garden.
Daffodils:
'Hillstar' is a rock-garden daffodil growing only 15-40cm tall that has a unique colour combination. The petals are bright lemon-yellow but they fade into a creamy white trumpet. Each stem can produce multiple flowers, so with very little it can easily seem like you have a lot. And all that with a delightful sweet fragrance too. This is another bulb that has achieved the RHS Award of Garden Merit.
'Papillon Blanc' is a charming new daffodil with what is called a "split corona," which gives the trumpet a delicate frilly appearance. The pure white petals are the perfect background to the lacy peach and yellow coloured centres. And bonus it's fragrant.
Other Faves: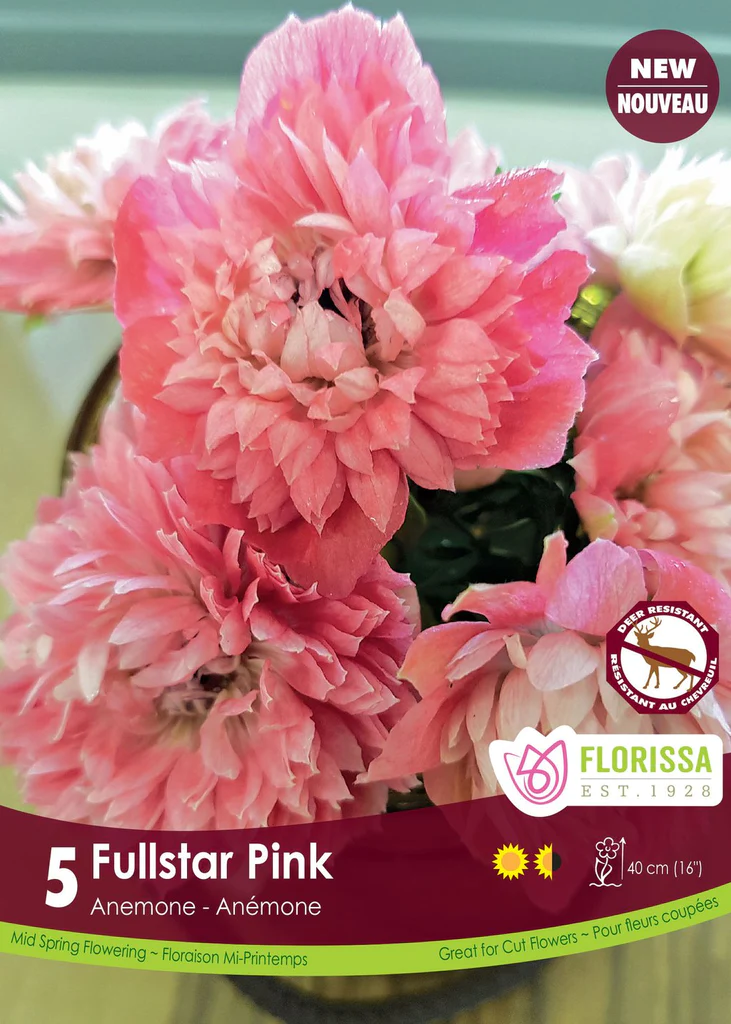 Ranunculus 'Amandine Marshmallow,' I love ranunculus, they are the epitome of delicate and feminine flowers and this new line of ranunculus has got me excited. The showy flowers are a mass of tightly spiralled petals that are well described as fully double. All this in a gorgeous soft baby pink colour that are held upright on strong stems. This collection boasts improved vigour and performance, which has got me interested since these tubers are famously hard to overwinter in the winter wet of the coast. So, hedge your bets and plant them in a protected container that drains well. 'Amandine Salmon' is another one to look for with colours ranging from apricot, salmon and pink.

Anemone 'Fullstar Pink' (pictured left) is another double pink dainty looking flower but while the ranunculus has an elegant structure petal arrangement, the anemone is more of a "wild child." I would call it fluffy and feminine with a bright pink colour. Also, a bit easier to grow on the "wet coast" anemones are easy to grow and will often happily naturalize. For a truly unique colour check out 'Fullstar Blue.' The petals are a royal purple/blue that surround a velvety black centre and truly needs to be seen to be appreciated.

Allium 'Red Giant' is something a bit different than other alliums we've seen. The flowers are still an impressive globe of reddish-purple flowers but they sit on much shorter stems (25cm). And what impresses me the most are the bold, wide, almost tropical looking leaves. Alliums are so easy to grow and never fail to brighten up the garden I'm always happy to find and new and interesting variety.







Colourful Companion Packages: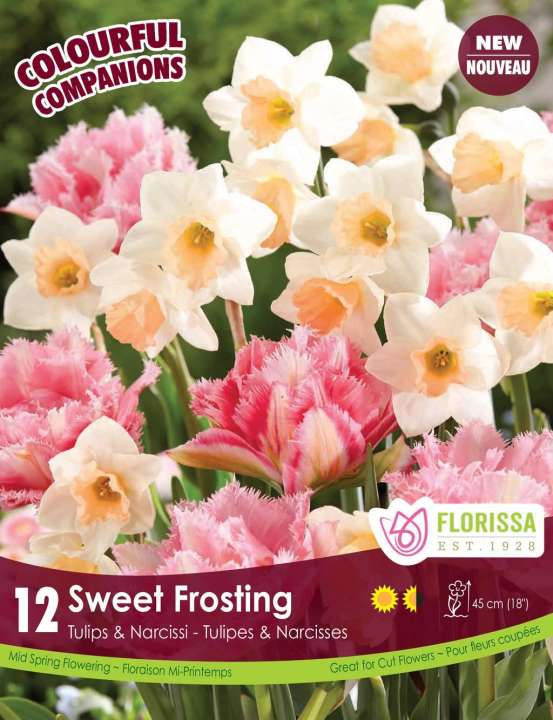 Something I'm seeing more and more of lately are companion packages of bulbs. These are "kits" you can buy of bulbs that you can plant together that have been specially chosen to work together in terms of bloom time, growth habit, and colour combinations. It takes all the work of figuring out what to plant with what, to give you the best show possible. It takes all the guess work out of planning your bulb planting. Head on down to your local GARDENWORKS and see what they have in stock. Two that caught my eye are:
Colourful Companion Sweet Frosting (pictured left) is a delicious looking mix of frilly pink tulips and apricot and white daffodils
Colourful Companion Tropical Twist lives up to its name with a mix of frilly tulips in shades of yellow, red and orange. Just like a tropical sunset.
So, this year when you are planting your spring bulbs, by all means stick to what you know and love (I still get giddy when I see the 'Angelique' tulips bloom) but also consider trying something new. It adds that element of wonder and surprise. Besides, you never know you might just discover a "new old favourite."