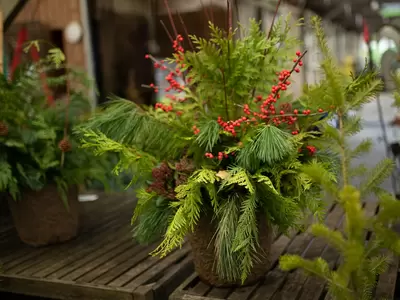 Winter is on the horizon, and as the air gets colder, the landscape becomes filled with holiday magic.
One delightful way to capture the spirit of the season is through our Festive Winter Planters. Over the past few years, these captivating arrangements have become iconic symbols of the holidays, adorning entryways to restaurants and homes with overflowing containers of evergreens, bright red berries, and vibrant foliage.
Not only do they add a touch of festive charm, but they also bring a breath of fresh air to the Winter season, lasting for months outdoors. Whether placed by an entry, on a patio, or balcony, these planters create a welcoming atmosphere throughout the holiday season and beyond.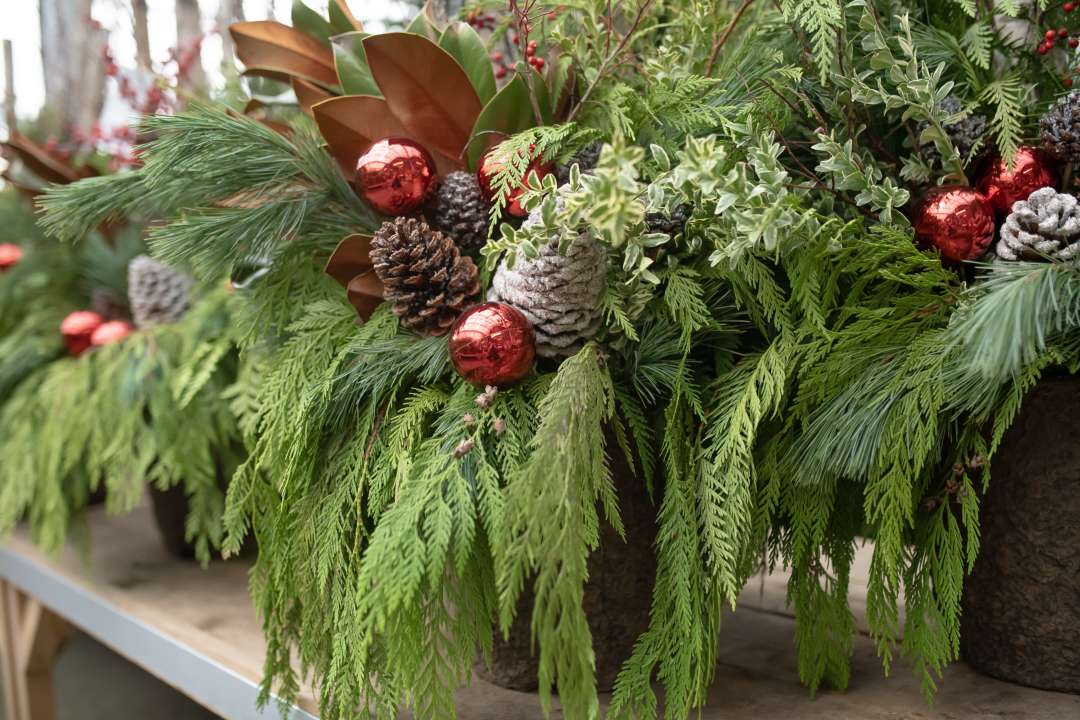 How to Craft Your Winter Accent Planters
1) Select a Beautiful Pot
Choose a pot with a colour that complements your selected branches and accents. Taller pots may elevate your Winter arrangement, providing ample space for evergreen boughs to gracefully drape over the sides while smaller pots can look more compact and full.
2) Fill Your Pot with Soil
Tamp down the soil to create a firm base for your arrangement. We recommend GARDENWORKS Planter Box Mix for the best results.
3) Establish a Foundation with Evergreen Boughs
Add Evergreen Boughs to create a foundation and infuse your planter with a delightful fragrance. Consider using Silver Fir, Douglas Fir, or Western Red Cedar for a captivating choice. Trim the bottom of each branch and firmly press them into the soil, forming a layer or "skirt" around the pot.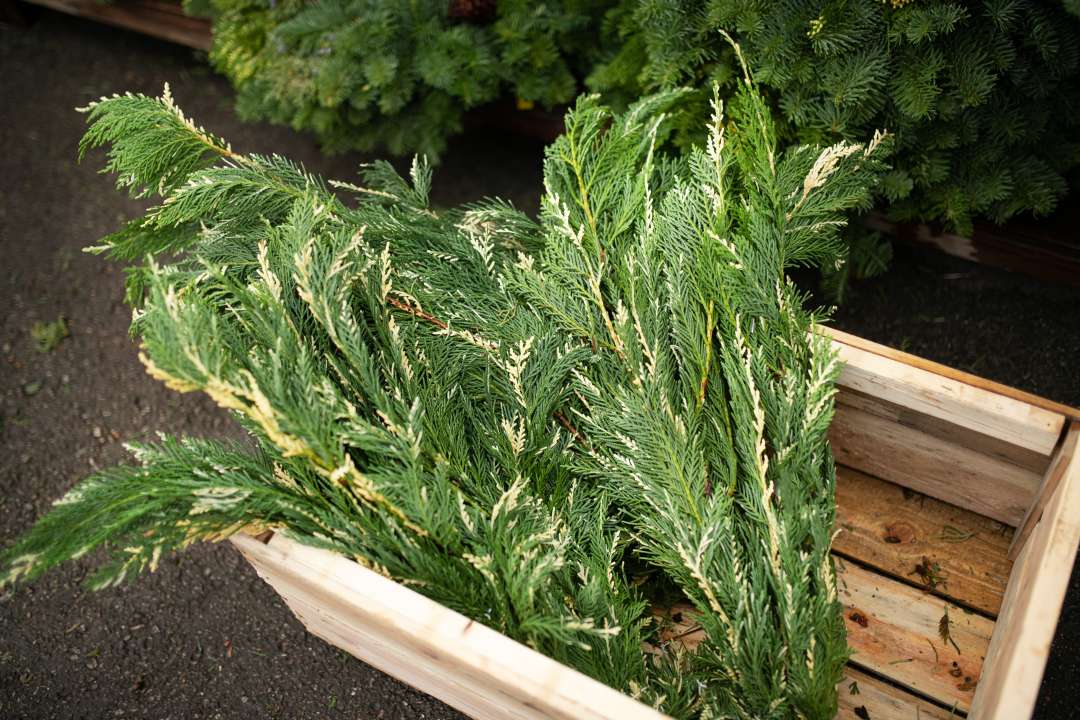 4) Create a Strong Focal Point
Introduce bunches of Red-Twig Dogwood, Curly Willow, Peeling White Birch, or other upright elements into the center of your planter. This forms an effective focal point that captures attention.
5) Fill in with Fresh Greenery
Surround your focal point with fresh greenery such as Eucalyptus, Evergreen Magnolia, and Variegated Oregonia. These materials add fullness, contrast, and visual interest to your planters. Feel free to incorporate elements from your garden, like stems of Japanese skimmia, Rhododendron, Japanese aucuba, or other seasonal offerings. Position your greenery in bunches for a more impactful visual effect.
6) Insert Finishing Touches
Make your Winter arrangement truly unique by incorporating eye-catching natural elements. Bright red sparkleberry, massive pinecones, exotic branches, and whimsical pieces add a final touch of charm, or opt for some holiday ornaments and bells.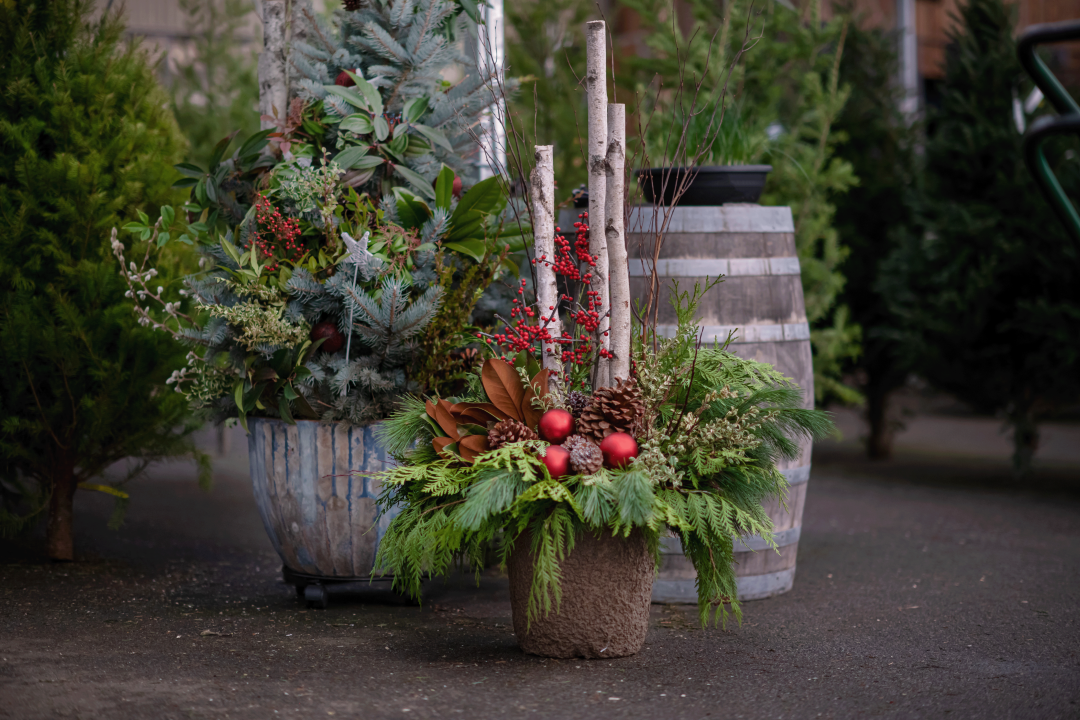 Each of our stores showcase an outstanding array of fresh materials for crafting your own Festive Winter Planters. If you're unsure about assembling all the elements, fear not! Our friendly staff is more than happy to assist and guide you through the process.
For more Holiday Green Inspiration, please see our guide here.
Happy holidays from all of us at GARDENWORKS!