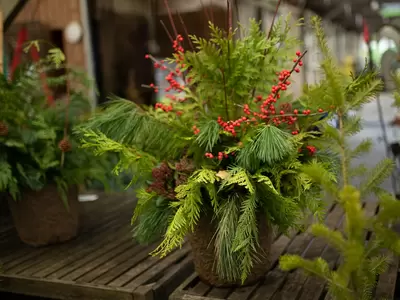 Written by Scott Pearce
In the last few years, as winter approaches, you may have noticed amazing containers, overflowing with sprigs of evergreens and glowing with bright red berries and colourful foliage, adorning entry ways to restaurants and homes. These winter accent planters have taken centre stage as icons of the holiday season, with fragrant evergreen boughs and colourful branches creating inspiring arrangements that will last for months outdoors. Placed by an entry or on a patio or balcony they are sure to add a fresh & welcoming atmosphere over the holiday season and through the winter! Certain elements can even be exchanged as winter progresses, to reflect the changing season! Create and place arrangements in existing planters after summer blooming annuals are finished, or choose a container or urn especially for your seasonal arrangements.
How To Create Winter Accent Planters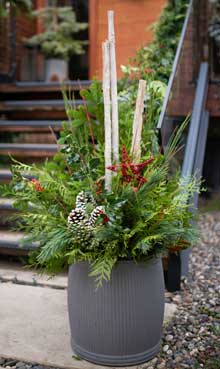 Select a beautiful pot
Choose a colour that will coordinate with your selection of branches & accents. Taller pots raise your winter arrangement off the ground, leaving more room for evergreen boughs to drape over the sides of the pot.

Fill your pot with soil - tamp the soil down to create a firm base for your arrangement.

Add evergreen boughs to establish a foundation for the rest of the arrangement and also to add a delightful fragrance. Silver fir, Douglas fir and western red cedar are all great choices. Trim the bottom end of each branch and push firmly into the soil, creating a layer or "skirt" all the way around the pot.

Create a strong focal point. Push bunches of red-twig dogwood, curly willow, peeling white birch or other upright elements into the centre of you planter to create an effective focal point.

Fill in around your focal point with fresh greenery. Eucalyptus, evergreen magnolia and variegated Oregonia are very popular choices. These material can add fullness, contrast and plenty of visual interest to your planters. Don't be afraid to use elements from your own garden as well! Cut a few stems of Japanese skimmia, Rhododendron, Japanese aucuba, or whatever your garden has to offer!
*Tip – position your greenery around you focal point in bunches rather than in bits & pieces – this has the most visual impact!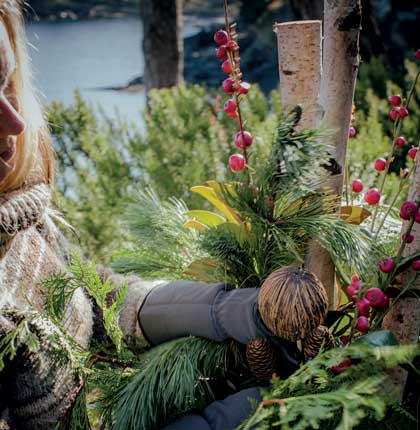 Insert finishing touches. Make your winter arrangement unique by adding a selection of eye-catching natural elements, including bright red sparkleberry, exotic branches and some special beautiful or whimsical pieces!
Visit us starting in early November to discover the outstanding array of fresh materials that you can use to create your own winter accent planters. If you're not sure how to put all the elements together, don't worry, its easy – our friendly staff will be delighted to show you how!