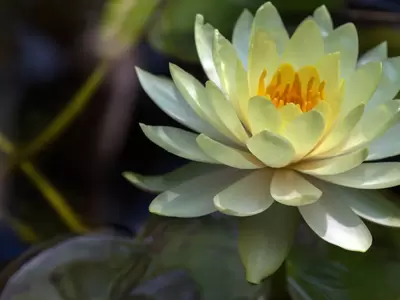 Written by Scott Pearce
Visits to gardens like VanDusen Botanical Garden or Butchart Gardens are such rewarding experiences. Perennials & shrubs in bloom are impressive and inspirational – visitors snap photos, jot down names and often then visit their local garden centre (like GARDENWORKS!) to see if the plants they admired are available to plant in their own gardens. The displays of annuals are just as inspiring, and better yet, the beautiful combinations created by designers give gardeners ideas that they can reproduce in containers on a patio or balcony!
There are a few elements of those big, impressive gardens that are much harder to work into a small space garden. Statuesque shade trees, like the oaks and beech that line the great lawn at VanDusen are one example, and expansive water gardens, with interesting marginal plants, engaging Koi and amazing water lilies, seem like they would be hard to replicate on a small patio.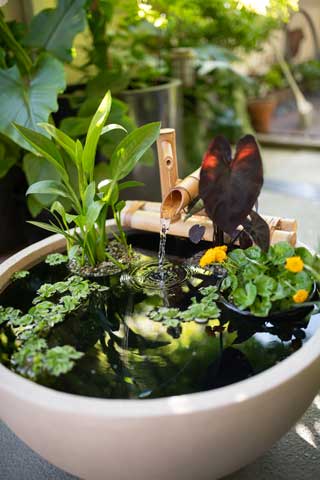 It is possible to enjoy a wonderful water garden on your patio, albeit on a much smaller scale. Fill a watertight container, add a few choice aquatic plants, perhaps a small pump and "water spitter" and you've created a nice water feature in no time at all.
Still, what about those amazing water lilies! They spread across the sunniest part of large ponds, and intuitively, seem to need more space than is available on a patio. There are a number of species and quite a few cultivars of Nymphaea, and the largest ones do prefer enough space to spread out – perhaps 4 to 6 feet of surface area, as well as a water depth of at least 18inches.
These larger varieties are worth a try, if you can have a large enough water container – something around 24inch diameter and 18 inches deep (Oak Barrel size). Smaller varieties are the best choice for containers. Varieties like Nymphaea 'Aurora mini Orange' and Nymphaea pygmea 'Red' require less water surface area, and will grow well in water 14 inches deep or more.
Water Lilies are available, already potted, in 5 inch pots and 8 inch pots that are very specific to water lilies. The pots have slits in the sides that enable water and oxygen to be continuously exchanged with the surrounding water. For your first season, you should be able to grow the plant in the pot it comes in when you purchase it. If it is growing really well, you may need to repot it.
Find a sunny spot on your patio for your water plant container (something like an Oak Barrel, or big water tight pot). Fill the container with water and let it sit for at least 24 hours before adding your water lily. Place your lily in the water container at a depth that allows the leaves to float comfortably on the surface. Over a period of several weeks, as the water lily grows, gradually move the pot deeper, with a final depth of between 14 inches to 18 inches. This will require you to have "blocks" or risers that you place under the pot, removing the blocks one at a time until your lily reaches the required depth.
Water lilies do grow quite well in a sunny location, and respond well to feeding with a specialized aquatic plant food, a bit higher in phosphorus (the middle number) than nitrogen or potassium. One example is 10-14-8 Aquatic Plant Food.
For extra interest add one or two interesting marginal aquatic plants. For a tropical feel try variegated sweet flat and dwarf papyrus.
In a sunny location, water lilies will produce blooms throughout the summer, bringing a little of piece of a show garden to your balcony!
*Waterlilies can grow aggressively in natural lakes and waterways in southern BC. Please keep this in mind and keep your waterlilies where they belong – contained in your own patio water feature!