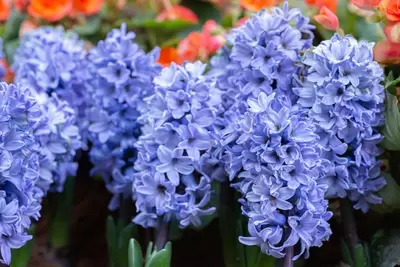 Written by Ingrid Hoff
Scent is not something I generally spend a lot of time thinking about, that is until I smell something that evokes a memory or changes my mood. Scent is both personal and powerful. My mother was fond of wearing a certain perfume when I was little and I am stopped in my tracks anytime I smell it as an adult, with a flood of warm childhood memories of my mum. Memories and emotion are all wrapped up in scent. In fact, after thinking about it recently I started looking into it and found that the human olfactory bulb (where the body processes scent) has a direct connection to the areas in that brain that are believed to be involved with emotion and memory. Then I started to wonder if it's a coincidence that the part of our bodies that processes scent is called a bulb. I think not, considering the wealth of spring bulbs we can grow in our gardens that delight us with both visual beauty and fragrant perfume. Okay, in all honesty it might have more to do with the shape of said nerve than its actual association with the plants, but I'm still going to think it's a good association.
As gardeners we want our stunning spring colour but… oh yeah, we want fragrance too. With smaller spaces and the often-inclement weather we get in the spring it makes sense to want the most out of spring plantings, beautiful colours and the heady scent of hyacinths and/or sweet perfume of tulips. The good news is it's easy to to accommodate since so many of the popular flowering spring bulbs we grow also smell amazing. And it's easy to find out which bulbs have the added bonus of fragrance; it's usually written right on the package for all to see. But just in case you want to know before you go to your local GARDENWORKS here is a list of some of the stand out types of spring bulbs that will add both beauty and perfume to your life next spring.
Hyacinths are the bulbs that most people think of when I mention fragrant bulb because they smell so good and there are so many to choose from. They pack an exclamation point of colour in the garden at a time when we need a shot of colour. Their fragrance is both refreshing and strong enough to be detected from a bit of a distance. Some of my favourites are the pure white 'Carnegie,' the unique soft buttery yellow of 'City of Haarlem,' the traditional blue that is so hard to find in other flowers of 'Delft Blue,' and 'Anna Marie' starts off a light pink but fades to a salmon colour. To be honest there are so many different colours and variations that you should just cruise the racks and find one that speaks to you.
One bulb that is similar to hyacinths, and one most people don't consider for their fragrance, is muscari or grape hyacinth. Which to me is a shame because they do have a nice, albeit mild, sweet fragrance. The best cultivar for fragrance is the yellow flowering and well named 'Golden Fragrance' but the more common blue and yellow types are just as charming.
Daffodils are not always celebrated for their fragrance but there are a number of cultivars that should be.
'Thalia' is well known for its fresh and somewhat spicy sent. The pure white blooms are pretty enough even without the bonus of fragrance.

'Actaea' is an heirloom variety (from the 1920s) with a spicy scent. This is what is called a poeticus type of daffodil and so it has a small cup that is rimmed in a striking red colour which contrasts nicely against the pure white petals.

'Geranium' is another fragrant heirloom (from the 30s) with a dainty orange cup and creamy white petals. The scent has been described as sultry, and almost romantic.
'Jetfire' this multiple award-winning miniature daffodil (25cm tall) that is both cute and fragrant. They are perfect for planting in a pot by the front door where they'll bring you joy every time you walk in and out.

'Carlton' is a traditional-looking golden yellow large flowering daffodil with a vanilla-like scent.
Tulips are so stunning that in the 17th century collectors were willing to pay the equivalent of a year salary to get their hands on a single bulb. Luckily, they've come down in price since then. Many of them aren't just spectacular looking, they smell amazing too.
'Angelique' is one of my favourites, a late blooming, princess-pink coloured, peony-style with a delicate sweet fragrance.

'Ballerina' is a late blooming, elegant shaped lily-flowered tulip with vibrant orange petals and sweet scent.
'Princess Irene' is an early bloomer with tangerine coloured petals that are highlighted by "flames" of purple. A bold coloured tulip with a sweet fruity smell.

'Apricot Beauty' is an early blooming triumph-type tulip, with soft salmon/apricot colour petals tinged with red. The fragrance has been described as sweet with a bit of sharpness.
Whichever bulbs you do choose, try and plant them somewhere close to your daily movement, such as the edge of a walkway or doorway. They may look amazing along the back fence of your yard but are really going to head out there in the unpredictable spring weather to enjoy their fragrance on a regular basis? Probably not. There are lots of bulbs to choose from, try to plant the ones with a scent somewhere accessible.
Scent is a very personal thing, what smells amazing to one person can be almost non-existent or even not preferred by another. So, my best advice is to go out and try some different fragrant bulbs when you are planting your spring show this year. You will find a favourite of your own. So, when considering which spring blooming bulbs this fall don't forget that other bulb, the olfactory bulb, you'll be glad you did.