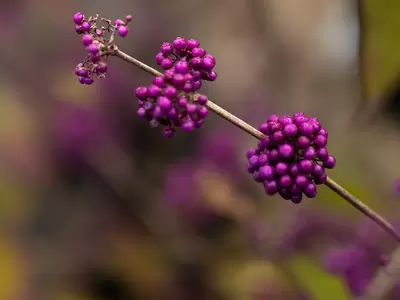 Written by Scott Pearce
As the season changes and the extravagant blooms of summer fade, the rich jewel tones of autumn begin to emerge. Fall will do what what fall does, calling on the changing foliage colours to flourish – all chimney red, honeycomb yellow and sunset orange. Look amongst all the leaves that clamor for your attention and you'll notice many ornamental berries that provide accent and contrast, dotted throughout autumn's smoldering canvas.
Firethorn (Pyracantha) has a relatively short-lived display of white blossoms in spring. You'll notice them covered in bees one day, and then within a week or so, the flowers will have faded. But the late summer & fall display of berries is spectacular, with different varieties usually smothered in orange, yellow or red berries. An evergreen shrub that takes its name from the sharp thorns that run along the stems, Pyracantha can create a formidable barrier. It's a sprawling shrub that is very effective when trained on a trellis or against a wall.
Beauty Berry (Callicarpa) keeps a low profile for most of the year, with light lavender blooms in summer that could easily go unnoticed, nestled in the foliage of this deciduous shrub. Branches become jeweled in clusters of purple berries that really stand out once the leaves begin to drop. Birds seem to eat the berries, but the berries easily persist into December. Little maintenance or pruning is required, but the berries are fabulous in fall flower arrangements, so keep your pruners handy!
Snowberry (Symphoricarpos) is a West Coast & N. American native deciduous shrub that grows well in moist soil in the shade of overhead trees , and produces plump white berries starting in late-summer, lasting throughout the fall. Cut branches are popular in fall bouquets, and it's a great way to add autumn sophistication to native plantings and shade gardens. For something different, watch for hybrids that display berries in shades of pink.
Wintergreen (Gaultheria procumbens) is a low, slowly spreading broadleaved evergreen, with glossy green leaves. Related to our West coast native salal, wintergreen thrives in similar conditions, best in a partially shaded location and an acidic, moist but well drained soil. White bell shaped flowers and red berries often appear on the plant at the same time in late summer and fall, and berries remain on the plant well into the new year. Very popular in winter containers, as a single plant in a relatively small 11cm pot may have as many as 50 or more berries. The variety "Peppermint Pearl" features white berries (often with a slight pink hue to them).
Black Chokeberry (Aronia melanocarpa) might not sound appealing, but this native deciduous shrub is multi-talented, producing a profusion of white flowers in spring, followed by surprisingly showy hanging clusters of glossy jet-black berries in fall, alongside changing fall foliage colours of brilliant red & orange. It is a star of the fall garden, and can be combined with many plants to dial up the interest in the garden and containers.
Rugosa Roses (Rosa rugosa) display fragrant early summer blooms followed by lovely rose hips in shades of red or orange that last well into winter. Rose hips are fabulous in winter arrangements and are edible too! They are very popular for making jams or jellies, although birds seem to enjoy them best when "picked fresh". There are many rugosa rose cultivars, including favourites like 'Hansa', featuring deep pink flowers, and the white flowered variety 'Blanc Double de Coubert'.
Oregon Grape (Mahonia aquifolium) is a well known broadleaf evergreen native to the west coast. It is tolerant of difficult conditions, but thrives and looks it's best when grown in open shade and a moist but well drained soil. Golden yellow flower clusters appear in early spring, intermingled with attractive bronzy new growth. Blue berries are formed over the summer, persisting into fall but disappearing as wildlife enjoy the fruits of natures labour!