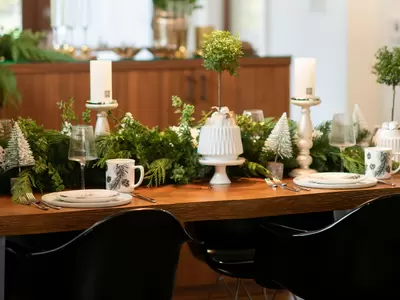 Written by Ingrid Hoff
Let's be honest, winter can be a bit dark and gloomy. And for gardeners it can be even more difficult to be so far removed from the glory and growth of spring and summer. But luckily, we don't have to, there is so much to celebrate at this time of year. By inviting a few elements of nature into your home you can transform both your physical and mental space. It's true, natural elements in the home at this time of year are both beautiful and beneficial. The healing power of nature is well studied, interactions between people and nature can positively change your brain, lower heart rates and reduce levels of the stress hormone cortisol. So, good news not only can you decorate for the holidays but you'll doing some self-care at the same time.
The tradition of decorating your indoor space with evergreens comes from way back in human history, to the celebration of Winter solstice from a variety of cultures throughout the world. The general idea being that it's dark and gloomy and nothing is growing so let's find the green, vibrant things and surround ourselves with them. Ta-da… winter greenery, and incidentally also the Christmas tree.
It can be as easy as trimming a branch or two from your garden and bringing it inside to enjoy or as elaborate as festooning multiple surfaces with garlands and swags. Don't have a garden to trim from, no problem, there are tons of branches, boughs and garlands available at your local GARDENWORKS right now.
Evergreens are the most obvious choice but don't limit yourself, also consider the bare branches of a deciduous shrub. They have a stark and minimal beauty and are the perfect place to hang a few ornaments. Also, branches come in more colours than just brown, the red stems of huckleberry or dogwoods, the pure white bark of birch. Plants with big bold evergreen leaves such as magnolia and euonymus add texture when mixed in with evergreens. To get even more texture consider using a few different kinds of evergreens. Cedar has a smooth texture, whereas a long-needled pine can be bold, and you can never go wrong with fir. And I haven't even got the best part yet, not only are they festive looking, but evergreens will make the whole house smell amazing.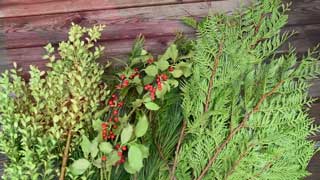 Let's not forget to add a little splash of colour and berries are my favourite. The stems of deciduous holly are masses of red berries that are just asking to be tucked into an arrangement. Then there is holly itself, a mainstay of the holiday season, it looks so festive tucked into almost anywhere (and bonus it's also long lasting).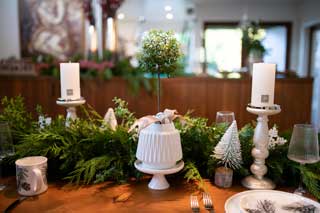 Premade evergreen garlands are my favourite to make a big impact without a lot of work. You can buy them premade in a variety of lengths and simply place them pretty much all over your home. The classic example is to drape it on a mantle, but also consider winding it up a staircase (it looks especially decadent to have it a little longer and "puddle" in a little curve at the bottom of the staircase), along a bookshelf, running down the centre of the table with some ornaments or candles tucked in for a show stopping centrepiece, lining a picture shelf decorated with some battery powered mini lights, or even hooked up around a doorway for a show stopping entrance.
Garlands also benefit from a little "zhuzhing" up. You can leave them just as they are if you prefer the minimal look, but for the holiday season I'm not much of a minimalist. I like to add ribbons and bows, ornaments, or even tuck in some berries or other evergreens to add some sparkle and pizzaz.
But if you don't want to go all out or have a smaller space, you can still join in the fun. Tuck an evergreen or holly sprig into light fixture, or a small vase on a side table. Even in the smallest of spaces a little bit of nature can't help but make you smile.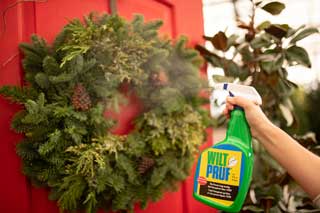 However, much we might love our indoor greenery, they won't last forever. Which personally I find to be part of their mystique, I appreciate it all that much more because I know that it's special and slightly fleeting. On average you can expect greens to be fresh and prime in the hot dry climates of our home for about two weeks. There are a few tricks to extend this. First you can prevent them from drying out by misting or having them in a vase of water. Or consider using a product such as Wilt Pruf. You spray on your evergreens (outside in a well-ventilated area), let it dry and then bring it inside. The spray acts as a protective coating and will keep your greens from losing moisture. Or consider combining both fresh and everlasting decorations. The everlasting ones are so good these days they are hard to tell from the fresh. If you have a mix then you get the benefits of both, longevity and fresh fragrance. If you notice some of your fresh greens looking past their prime, simply replace them with new ones.
Just because the weather outside is frightful doesn't mean that your indoor spaces can't do with a little sprucing up (pun intended). Trust me it will make everything, your space, your mood, everything, just a little more delightful.