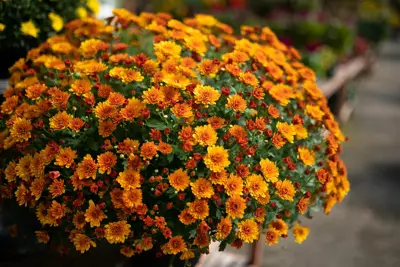 by Ingrid Hoff
The seasons are once again changing and for many the joy of spring planting seems like a distant memory. But gardeners rejoice, a new season of planting and colour is upon us. Temperatures are dipping, it's time to rip out your tired summer annuals, prune back ragged perennials, then turn up the colour and plant some fall colour.
For most people fall colour means the traditional orange, red, brown and yellow. But fall is a time for all colour types, there are the gentle hues of soft pink, apricot, taupe and grey, also the shock and fire of hot fuchsia, bold in-your-face reds and oranges. There is a nip in the air so it's time to get planting and embrace whatever colour you fancy into your spaces.
Whether you are looking to create mounds of colour undulating through your garden or a pop of colour to liven up your front door or patio, there are two plants to fulfill all your autumnal colour needs, garden mums and heathers. These are the "work horses" of the fall garden, unbelievable colour with low maintenance forgiving plants. If you haven't had the joy of growing these plants then please allow me to introduce you. If you've grown them before then please let me remind you of why you need to run, not walk, down to your local GARRDENWORKS to get your hands on some.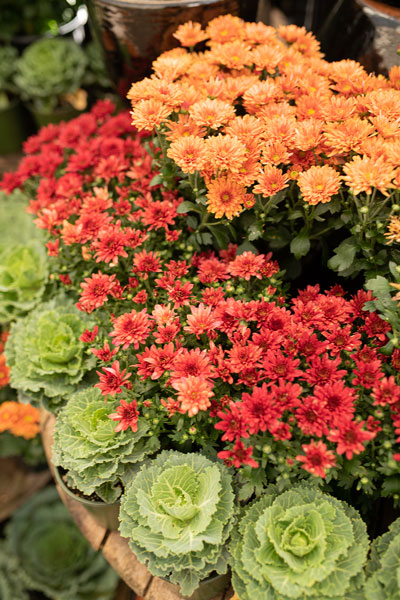 Garden Mums
Garden mums (not to be confused with florist mums which are not to be planted outside) are a bold bang of colour before the winter, a firecracker in your landscape. Easy to grow they are a mound of colour that just keeps going even as the weather gets nippy. The daisy-like flowers come in all kinds of colour variations, soft pinks, creamy apricots, deep maroon, fiery oranges, rust coloured reds, even green flowered varieties for something a little different. They also come in a variety of sizes, from small buttons, the size of a quarter, to full-on-eye-catching flowers as large as dinner plates. With flower shapes ranging from demure singles to buxom full doubles; there are even cultivars with rolled petals resembling a tube or quill. Your style options are wide and varied.
Mums (short for chrysanthemums) are what I like to call "sometimes perennials." Technically a perennial, if you buy and plant one in spring then chances are it will get established in your garden and will act like a perennial. But if you're like me and haven't thought that far ahead, you just want a crazy, fantastic fall show on your doorstep, garden or patio right now, then run on down to GARDENWORKS and get some to pop into a pot so you can create an autumnal vignette worthy of Instagram. Often garden mums you get in the fall and keep in a container don't really have a chance at overwintering but I'm happy to treat them like an annual and enjoy them for all the joy they give me.
GROWING GARDEN MUMS
Be sure to deadhead them regularly to keep the show going well into the cold months.

Plant in full sun to part shade or they can get leggy and have mildew issues due to lack of airflow.

These are shallow rooted plants so you need to make sure to water them well but never let them sit in water (good drainage is a must). Consider using mulch to help retain water.

They have very few pest problems and as long as you treat them well, they will bloom for months. However, watch for leaf spot, powdery mildew and viruses (mosaic or stunt). Just make sure to buy them from a trusted source like GARDENWORKS and you'll be starting off with healthy plants.

Fertilize lightly with a high phosphorous fertilizer (the middle number) to promote good root establishment (GARDENWORKS Transplant Fertilizer is a great option).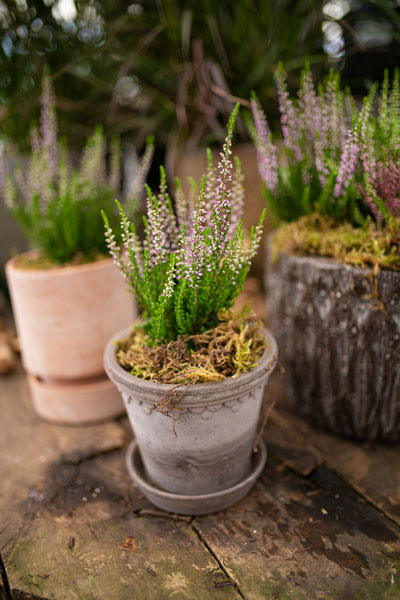 Heathers and Heaths
Celebrated in both spring and fall, heathers and heaths bring amazing colour patterns and texture to outdoor spaces. Fall blooming types are enjoyed from August to October (some varieties into November and beyond). They are spikey mounds full of texture and beauty. Flowers range in colour from crisp whites to vibrant pink and all the creams and lavenders in-between. They boast beautiful feathery textured foliage that in many cultivars changes colour through the seasons. You can have tones ranging from calm silver/blue to dramatic glowing orange/red. I love to put one in a container by my front door and it gives me joy every time I come or go.
Curious about what the difference is between a heath and a heather? I know I was. They are very similar, but are actually different plants, the big visual difference is in the texture and structure of their leaves. Heathers are the genus Calluna and they have flat scale-like leaves. Heaths on the other hand are the genus Erica and have needle-like leaves. But, trust me, they are both "drool-worthy" in the garden.
GROWING HEATHS AND HEATHERS
Plant in full sun/part shade

Good drainage is a must
Don't fertilize, these plants are used to growing in low nutrient acidic soils.

To keep your heather year-round (they are hardy) prune it back in the early spring just below the flowers. Or just treat them like an annual and enjoy the fall glory (your choice, no judgement).

Deer resistant (depending on how hungry your deer are), salt and drought tolerant, these are truly sturdy plants reminiscent of the stereotypical stalwart Scots from where these plants are so often associated.
So, whether you are ready to try something new, embrace a bold bit of colour, or perhaps you are already a denizen of the hot hues, or maybe still want to embrace the colour season but with a bit more calming minimalist flair, there are garden mums and heathers in the perfect shade for you. Embrace the season in all its colour, grab something to eat or drink with pumpkin spice, pull out your sweaters and woolly socks and make your space beautiful.
Fun Facts
Chrysanthemums are an ancient flower, grown in China in the 15th century

White heather flowers were included in funeral wreath for Queen Elizabeth II, picked on her Balmoral estate (so if it was good enough for the Queen…).

Some heathers are called bud-bloomers since their flower buds never actually open. Since the buds themselves are so colourful and attractive no-one is the wiser and the buds generally hold their colour for longer than flowers.