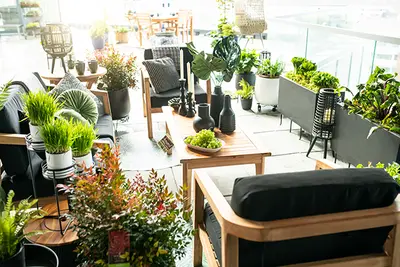 As the weather begins to warm up, it's the perfect time to spruce up your balcony and create a cozy outdoor space to relax and enjoy. With a few simple steps, you can turn your balcony into an oasis that reflects your style and personality.
Here are five easy steps to help you transform your balcony for the season ahead!
1) Add furniture and function
The first step in styling your balcony is to determine how you want to use your space. Do you wish to have a comfortable conversation corner, host lots of gorgeous outdoor dinners, or is growing vegetables and herbs important you? Consider these questions while adding some furniture and making it functional.
A small table and chairs are essential for outdoor dining, while a comfortable lounge couch or a hammock is perfect for relaxing and reading a book. Make sure to choose furniture that is durable and weather-resistant, especially if your balcony is exposed to the elements. If growing vegetables and herbs, be sure to set aside enough space for your container boxes and planters in a location best suited for your produce's needs.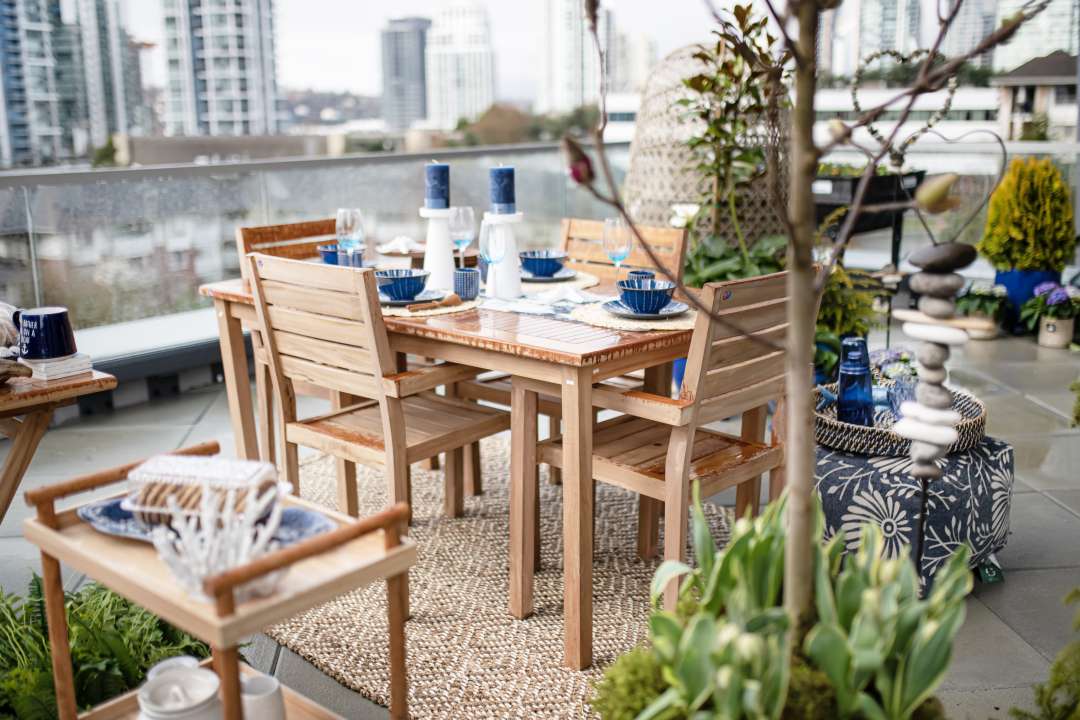 2) Choose a theme
To create a cohesive and stylish look, choose a theme for your balcony. It could be a colour scheme, a specific aesthetic, or even a destination-inspired vibe. For example, you could create a tropical oasis with lush plants, towering palms, bright colours, and bamboo furniture, or you could opt for a minimalist look with clean lines, neutral colours, light furniture, and simple decor.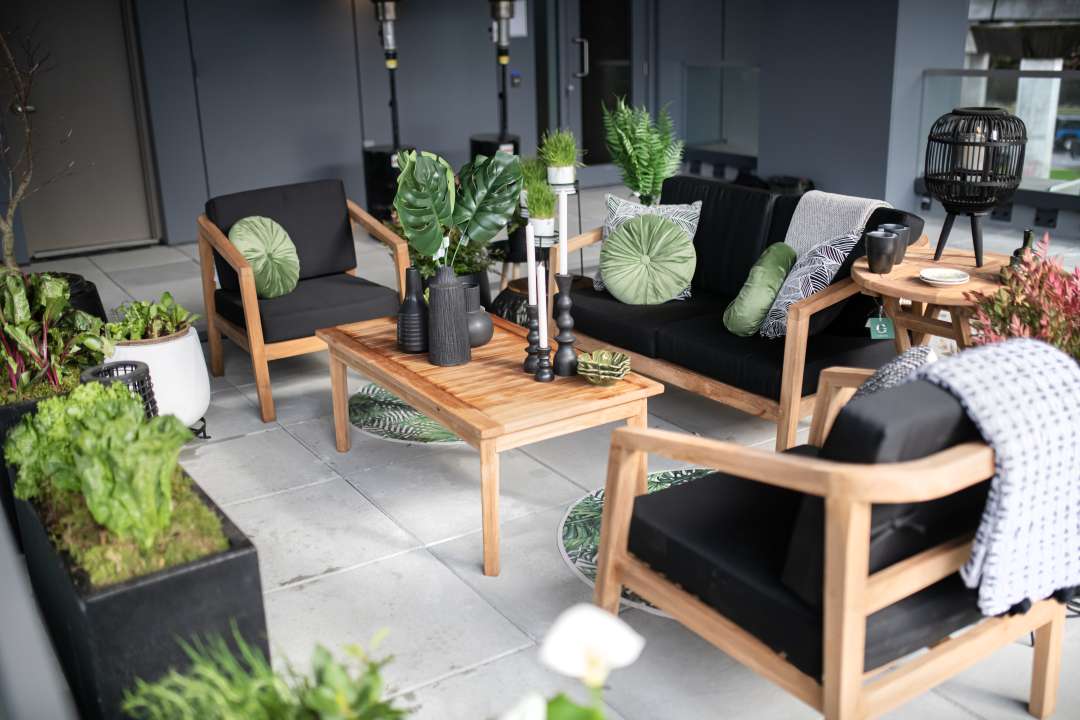 3) Define your space
To create a functional and inviting space, you need to define it. Carve out your space by using outdoor rugs, plants, furniture, or a privacy screen. Outdoor rugs can add colour and texture to your balcony while also making it more comfortable to walk on. Outdoor rugs are fantastic décor elements too as they can anchor your furniture, creating a recognizable outdoor living space with one simple product.
Plants can help create a sense of privacy while also adding a touch of nature to your space too. Consider adding Obelisks or Trellises to provide structure and height to your balcony garden. Fragrant flowers can help create ambiance by keeping your senses heightened. And if you crave more seclusion, a privacy screen can block out unwanted views while adding an element of design.
4) Group container plantings
Colourful plants and lush foliage are a great way to add life and vibrancy to your balcony. Grouping containers together in a stunning combination will create harmony with your theme. You can mix and match different types of plants, such as flowers, herbs, ferns, and succulents, to create a variety of textures and unique hues or use pots of different sizes and heights to add depth and dimension to your display. Container plants can help you achieve the element most important to you too, whether it be flowers, foliage, scent or privacy!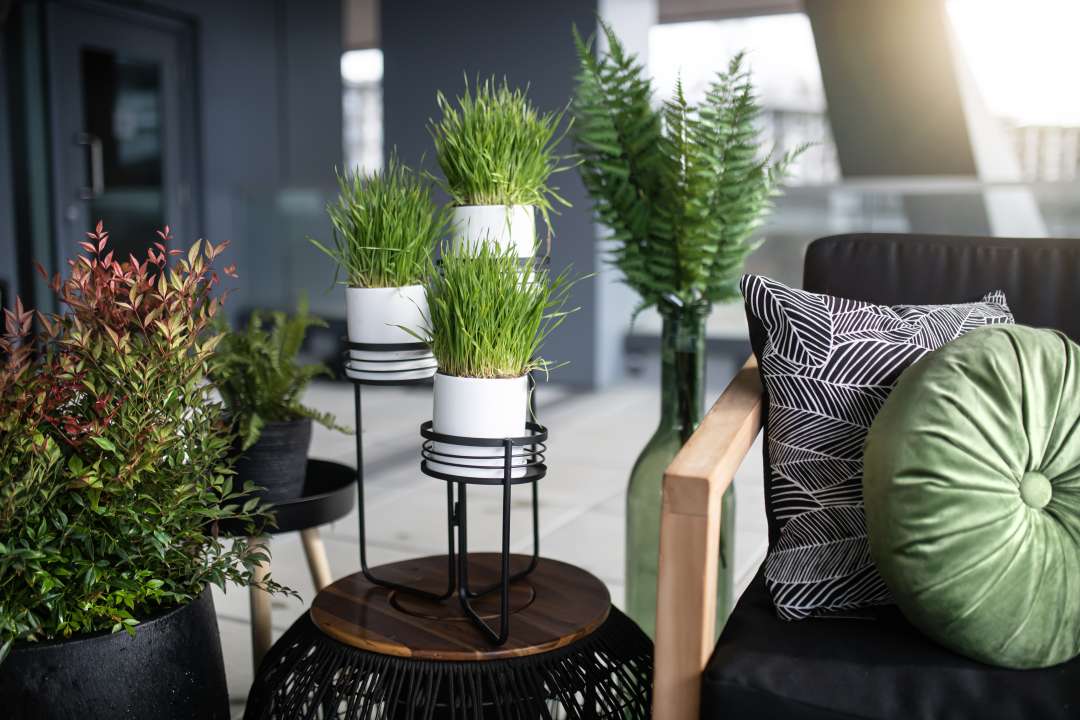 5) Add accents and lighting
The final step in styling your balcony is to add accents and lighting. Accessories such as throw pillows, blankets, statues, and rugs can add a pop of colour to your balcony while lighting can help create a warm and inviting ambiance. Use string lights or lanterns to add a soft glow to your space, or water features for soothing sound.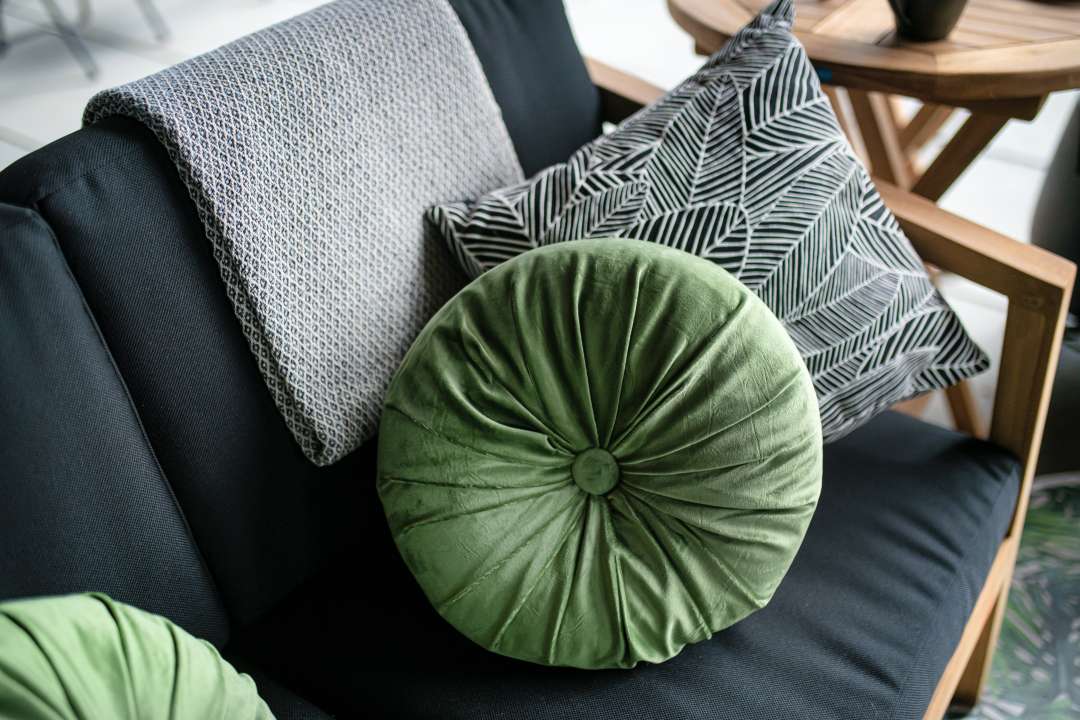 In conclusion, styling your balcony is easy and fun! Your balcony is an extension of your home and should make you just as happy. By following these five easy steps, you can create a cozy outdoor space with an inviting and relaxing ambiance. Whether you want to create a tropical oasis or a minimalist retreat, the key is to choose a theme, define your space, and add furniture, plants, and accents that complement your style. So, go ahead and get creative and transform your balcony into an outdoor oasis that you'll love to spend time in!
*Photos taken in Partnership with Concord Brentwood Towers.