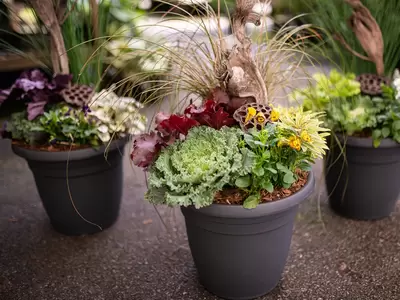 Written by Ingrid Hoff
It's right about this time of year that the "glow" has gone off of my hanging basket and front door planters. Gone are the days when I peek out the window at the mass of colour and texture and feel a warm glow of pride in what I've created. Instead I've reached the "avoid looking at it and pretend it's not there" stage. Things have become a bit overgrown, brown, patchy, and what I refer to as overblown. The end of August and beginning of September is a tough time for hanging baskets and planters, but it really doesn't have to be that way, you don't have to toss them and live on only the memory of their beauty. The onset of cooler weather is the start of a different gardening season that with a tiny bit of effort can be just as enjoyable.
Assess and Trim
The first thing you should do with your planter is take a good hard look and assess what you have. Not everything is too far gone. Some plants may just need a bit of care to perk back up, especially structural plants such as grasses and cascading plants. So, don't be too quick to pull out and toss plants, a good haircut may be all that is needed. But if a plant is too far gone or has no chance of redeeming itself then carefully remove to make room for something new.
Prep the Planter
Before we start replanting, we need to refresh the soil. Generally speaking, planters and hanging baskets are small in size and after an entire spring and summer of plants growing and feeding, they've lost a lot of soil and nutrients. So, we need to add some back. Luckily there are oodles of different fertilizers and compost products available, whether you are interested in something organic or more conventional. Just head down to your local GARDENWORKS to find one that works for you. Make sure not skip this stage as there will be little to no nutrients left in your planter and there can be no joy without the proper food to make the magic happen.
Plant Something New
Now is the fun part about a fall planter refresh, choosing some new plants. Knowing what you've kept you can plan how much room you have for new material. When it comes to choosing fall inspired plants, I always feel like going a little wild. I want all the colours to give me those fall feels, like oranges, garnet, golds, burgundy, scarlet, and russet. Bold vivid colours are what we all crave for fall and they are so easy to get with the array of annuals and perennials that thrive in cool conditions. Flowering plants such as rudbeckias, garden mums, coneflowers, asters, pansies are easy to pop into your planter to give it an instant refresh. And the garden centre is filled with them.
But don't overlook the power of the foliage plants for adding pops of colour. Don't believe me? I dare you to look at a rosette of ornamental kale and not see that it looks like a giant rose that blooms for months. What is not to like? Heuchera are also a great option for foliage colour, they come in a variety of moody fall colours like purple, pewter, marmalade-orange, or even acidic-green. Consider adding some grasses, the texture of their leaves and nodding seed heads will give you a harvest vibe.
To really amp up the fun add some branches with interesting looking bark and/or berries, or when the time is right a pumpkin or some decorative gourds. Or go completely wild and add a scarecrow and/or bale of straw. The important thing is to do something that makes you smile and brings back the warm glow of seeing the beauty of the season right outside your door.
Also, just a tip that this might be a great time to think about planting some spring bulbs in those planters. You can always pop a few in the holes you dig and then plant the fall annuals right over top. That way in the spring (when the annuals are but a distant memory) you will be surprised by the beautiful spring bulbs emerging from the soil.
My best advice? Head down to your local GARDENWORKS armed with the knowledge of how much space you have and get inspired by all the plants and displays. The problem will be limiting yourself to only enough plants to fill the space you have (I sometimes end up with a new planter or two). Just don't forget the fertilizer.
Once you get your new plants planted, give everything a good drink, and sit down to enjoy one yourself while admiring the beauty of another gardening season.