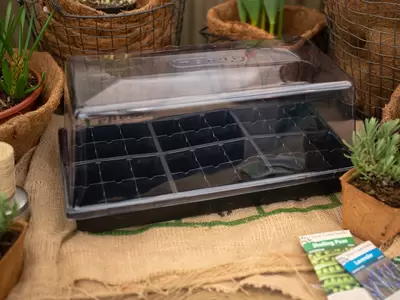 Written by: Peter Fitzmaurice
As I write this in mid-January the weather is mild, it has been wet but temperatures have been well above seasonal. I have been cleaning up around my patio and starting to dream about the season ahead. While we expect to still get some cold winter weather, as a gardener and plant lover, there are so many things to consider and plan for growing plants when the weather does turn. Today I will focus on growing vegetables: I love bragging when I go to make meals that are composed of food that was grown mere metres away from where they were grown.
The West Coast Gardening Guides are out, this publication has always been my inspiration to get me started thinking about my vegetable garden. No, I am not literally out there right now planting or sowing seeds yet, but I am planning what I want to grow this spring. Surprisingly there are a few things I can plant soon, like artichokes, onions and leeks which should be started indoors in February, ready to be planted out, even before the last frosts. Now is my time to dream about all the possibilities.
So, it's time to grab this invaluable gardening guide or any seed catalogue for that matter and start planning. Bear in mind, that if you are ordering from outside the country, there is a rigorous certification process that limits what and how you bring seeds into Canada. What I love about West Coast Seeds is that fact that they only produce seeds of varieties that grow well in our region. The fact that their trial gardens are literally a few kilometers away in Delta is a bonus. If their plants grow well out there, you should have no problem growing them anywhere in the Vancouver and Vancouver Island region and, with some exceptions, in the Okanagan Valley. As you may know, the growing season in the Okanagan, is just a little shorter. The West Coast Seeds Gardening guide has a very handy planning chart at the front. It lists all the types of seeds that you may want to grow. It indicates the time to sow; whether it is best direct, or to start indoors in trays, or under cover in the garden.
When planning your garden, the first thing to consider is location. When considering a vegetable garden for example, it is important that it gets at least 8 hours of sun a day. Some vegetables will tolerate less, some more, but this is a good rule of thumb. It is also important to know the area of your planting space. Bear in mind the spread of the individual plant. Some rows will need a wide space, think of the size a cabbage gets for example, and others, like radishes, require a narrower space. It is highly recommended to draw it out and plan your space. Because there are 3 main growing seasons, it would be advisable to have 3 plans (an early, mid and late season plan). It is very common for even seasoned gardeners to have eyes bigger than their veggie plot. The upside off this is that seeds are usually viable for a few years, so what you don't plant this season, you can plant next. For best results, keep excess seeds in a sealed container in the refrigerator. Also, some seeds you will want to reseed as the season progresses to ensure harvests for a longer period. A good example of this is Cilantro and leaf lettuce. Sowing seeds for some varieties 3 – 4 weeks apart will give you a succession of crops throughout the season. The catalogue will make suggestions on this technique too.
If you have a sunny wall or a trellis that can support vining plants like peas, beans and cucumbers, this is another factor to consider when planning your vegetable garden. Don't forget that once established you will want to be able to reach them without standing on your other veggies to harvest them. Another thing to consider when planning your vegetable garden is the possibility of planting flowers as companion plants between your veggies. These can sometimes assist in keeping your vegetables pollinated and free of pests.
Once you have planned what you are going to be growing in your garden, the next planning stage is what you will need if you are going to be starting some of your selections indoors. Bear in mind that the last frost on the coast is usually around the end of March and in the Okanagan Valley around the first week of May. Check what yours is if you are not in either of these regions. For seed starting supplies, GardenWorks has all you need to get growing in this department too. From seed trays and inserts to germinate your starts in, to domes and lights to ensure strong and healthy growth of your seedlings.
It is also really important to start your seeds in a sterile environment. Our Island's Finest Seed Starting Mix is the perfect blend for success. It comes in a 25L bag. If you are only needing a small amount, the 9L ProMix Seedling Starter would be a good, smaller alternative. Because you will be starting seeds indoors, the light may not be optimal in your home for your sprouting plants. It may be advisable to install a light over your trays. GardenWorks carries a variety of lighting systems to fit your budget, from LED to florescent. Bear in mind that regular incandescent lighting does not have the full spectrum of light needed for growing plants and could result in less-than-optimal results. Speak to one of our experts if you have any questions on this topic.
In closing, my area for growing vegetable in is a medium Vegepod. It is 1m x 1m and I have had great success growing herbs in the winter and a wonderful crop of leafy greens, beans and peas in the spring and summer. I get plenty of sunlight on my patio and also grow a great crop of tomatoes in large 5gal grower's pots. I usually choose a cherry type variety as I love to harvest smaller amounts of the fruits at a time and they are always amazing in salads. Last year my Sunchocola were incredible, this year I am going to try my hand at Indigo Rose or Black Cherry. Knowing me, I will probably grow both.